Zinedine Zidane represents Adidas' new body care range
The former footballer has been chosen by Adidas to be the muse for their new Body Care range for men. The products will be launched in August alongside an advertising campaign.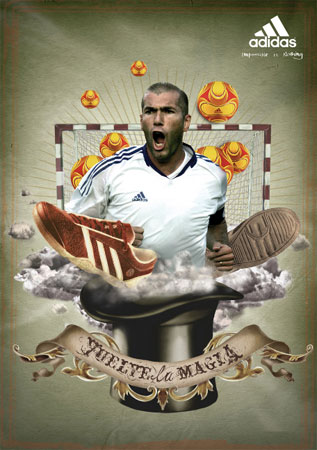 A former Adidas campaign with Zinedine Zidane
Is Zinedine Zidane a sure bet for the brand? After Louis Vuitton and Yohji Yamamoto, the Adidas brand has now chosen for its new beauty products line to be embodied. It appears to be an updated version of their fragranced Body Care line which adopts new "young", "dynamic" and "masculine" packaging.
It offers a range of six products entirely dedicated to the world of sport. Men can thus choose between deodorants, shower gels and "eau de toilette" from the line. "Pure Game," "Play," "Dive," "Impact", "Force" and "League". Each offer "fresh" and "energising" deodorant sprays, perfumes and shower gels.
The former world champion Zinedine Zidane will represent this new range through an advertising campaign consisting of two TV adverts and some press inserts.
The Body Care range will be available in August priced from 2.75 Euros for a shower gel and up to 13 Euros for a fragrance.
Copyright © 2023 FashionNetwork.com All rights reserved.