Zale still losing market share; stock falls
CHICAGO, Sept 27 (Reuters) - Jeweler Zale Corp (ZLC.N) said quarterly sales fell as consumers cut back on lower-priced jewelry and the retailer continued to lose market share, sending its stock down 3.7 percent.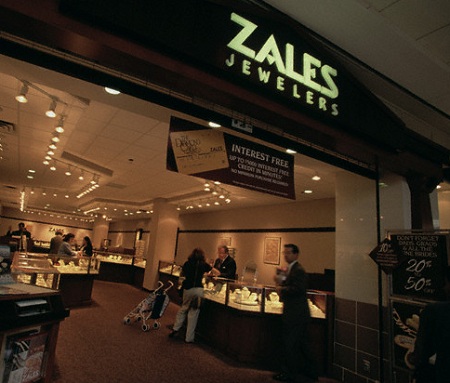 Zales Jewelry store, New Jersey.Photo : Corbis
The company, which operates the Zales chain in the United States and Peoples Jewellers in Canada, on Monday reported a narrower loss for the fiscal fourth quarter as margins expanded on lower costs and fewer merchandise discounts.
But sales fell 3.4 percent to $345.0 million, and sales at stores open at least a year dropped 2.1 percent. Zale has been contending with sharp sales declines for several years and has been losing market share to Kay Jewelers parent Signet Jewelers Ltd (SIG.N).
"The decrease in revenues ... is primarily due to the decline in comparable store sales and year-over-year store closures," Zale Chief Executive Theo Killion said in a conference call with analysts.
He said gross margins improved for the quarter to 52.7 percent from 46.4 percent a year earlier due to lower discounts.
Zale reported a net loss of $28.5 million, or 89 cents per share, for the quarter, ended July 31, compared with a loss of $89.8 million, or $2.81 per share, a year earlier.
Signet, Zale's most direct competitor in the "middle" jewelry market -- which falls between discounters like Wal-Mart Stores Inc (WMT.N) and high-end jeweler Tiffany & Co (TIF.N) -- reported U.S. same-store sales up 5.9 percent in its most recent quarter.
Much of Signet's same-store sales gains last quarter come from a surge at its higher-end Jared chain, while Tiffany missed sales expectations largely because of soft sales of items costing less than $500.
Zale last week reached an agreement with Citibank, a unit of Citigroup Inc (C.N), under which the bank would continue issuing store credit cards to the jeweler's customers for an initial five-year term, with automatic renewals for successive two-year terms, effective Oct. 1.
Roughly 40 percent of Zale's U.S. sales are made on those cards.
Killion said the company could not provide financial guidance for the current quarter, but he said the agreement with Citibank puts Zale in a better position going into the holidays.
Zale, whose liquidity problems during the 2009 holidays forced it to cancel orders, delay payments to vendors and cut advertising, will go up against Signet's ramped-up advertising campaign ahead of the holidays.
Zale plans to increase spending slightly for television advertising, CFO Matt Appel said. He would not give details.
The company recently said it had agreed to pay Z Investment Holdings, an affiliate of Golden Gate Capital, $25 million to eliminate the minimum consolidated EBITDA covenant under its credit agreement.
Shares of Zale were down 3.7 percent at $2.11 in late-morning trade on the New York Stock Exchange.
(Reporting by Emily Stephenson in Chicago; additional reporting by Phil Wahba in New York and Abhishek Takle in Bangalore; editing by John Wallace)
© Thomson Reuters 2022 All rights reserved.