Zale's sales rise during key holiday season
Jan 11- Zale Corp reported stronger sales during the key holiday shopping season, marking a reversal in fortunes after several quarters of declines.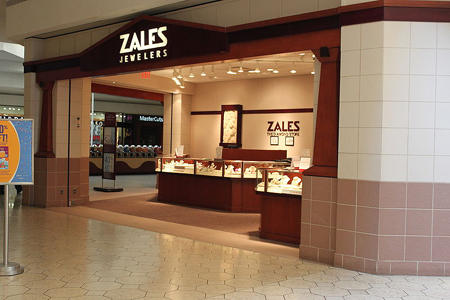 Zale store in Michigan (photo by Dwight Burdette)
Zale, whose chains include Zales in the United States and Peoples Jewelers in Canada, said same-store sales rose 8.5 percent in the November-December period, aided by a strong Canadian dollar.
This contrasts with a 12 percent decline in the year-ago period. Holiday sales account for 29.5 percent of the jewelry industry's annual sales.
Zale Chief Executive Theo Killion said the retailer's holiday results showed progress in its efforts "to stabilize the business and return to profitability."
The mid-tier jeweler has been losing market share to Kay Jewelers' parent Signet Jewelers Ltd and last year faced a liquidity crisis.
Signet reported U.S. same-store sales rose 11.7 percent during the holidays, while upscale jeweler Tiffany & Co said sales were up 11 percent globally.
Zale shares, which closed 3.1 percent lower on the New York Stock Exchange, rose 16 cents, or 4 percent, to $4.19 in extended trading.
(Reporting by Phil Wahba; Editing by Richard Chang)
© Thomson Reuters 2022 All rights reserved.