Zale quarterly loss narrows, same-store sales jump
Zale Corp reported a narrower third-quarter loss on Wednesday after another jump in sales in its fine brands segment, and the jeweler said momentum held up through the important Mother's Day period.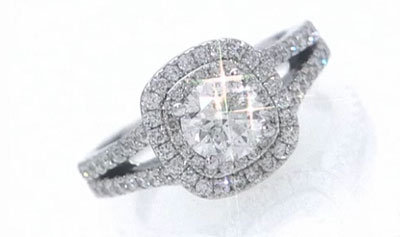 Vera Wang Lobe collection / Photo: Zale
Sales at stores open at least a year rose 8 percent in the quarter, making it Zale's sixth quarter in a row of improving same-store sales.
On a conference call with analysts, Chief Executive Theo Killion said that in May, which includes Mother's Day and is a key month in the bridal season, same-store sales are up about 15 percent so far.
He also said customers have not balked at the 1.5 percent price increase on fine jewelry during the quarter. The hike along with better inventory management has allowed Zale to better identify more popular merchandise. As a result it said it has reduced clearance sales and improved gross profit margin.
Zale's gross margin rose 1.2 points to 51.3 percent of sales in the quarter.
Zale has seen its sales rise in the last year and a half after falling sharply during the recession, when it faced a liquidity crunch. In May 2010, private equity firm Golden Gate Capital loaned Zale $150 million.
The company has not had a profitable year since the 12 months ended in July 2008, and has faced formidable competition in the mid-tier specialty jewelry market from Signet Jewelers Ltd's Kay Jewelers chain. Signet is due to report results on Thursday.
Zale's U.S. fine jewelry brands unit, which accounts for about 70 percent of annual revenue and consists of Zales Jewelers, Zales Outlet and Gordon's Jewelers, posted a 10.9 percent increase in same-store sales in the quarter.
Killion, in statement, called the quarterly results a sign of Zale's progress on the way back to "bottom-line profitability."
Zale's net loss was cut in half to $4.5 million, or 14 cents per share, in the third quarter ended April 30, from $9 million, or 28 cents per share, a year ago.
In Canada, where Zale operates chains including Peoples Jewellers and Mappins Jewellers and gets one-sixth of its revenue, same-store sales rose 3.8 percent.
At its struggling kiosk business, consisting primarily of the mall-based Piercing Pagoda chain, sales fell 1.1 percent. In March, Zale named a general manager, Jamie Singleton, to oversee the kiosk segment, which generates 13 percent of total sales.
Overall in the quarter, sales rose 8.1 percent to $445.2 million, beating estimates of $433.9 million, according to Thomson Reuters I/B/E/S.
Shares were up nearly 7 percent to $2.48 in morning trading, but were still off 63 percent from a 52-week high of $6.90 hit in July.
© Thomson Reuters 2023 All rights reserved.