Zale loss narrows on more full-price selling
By Phil Wahba

NEW YORK (Reuters) - Zale Corp (ZLC.N) reported a smaller quarterly loss on Wednesday 26 May, as more full-price selling helped the jewelry store operator grapple with sliding demand, and its shares rose more than 9 percent.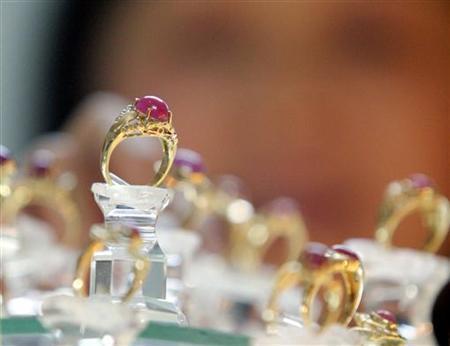 The company, which operates chains such as Zales Jewelers in the United States and Peoples Jewellers in Canada, has been losing sales and market share for several quarters to rivals such as Kay Jewelers parent Signet Jewelers Ltd (SIG.N).
But Zale's sales decline appeared to have moderated during its third quarter, which included Valentine's Day season, the jewelry industry's third-largest yearly event.
Sales at stores open at least one year fell 2.2 percent, a marked improvement over the 20 percent decline the company reported for the year-earlier period.
Over the Christmas holiday, same-store sales had risen at Signet while falling sharply at Zale, prompting questions about the company's liquidity and leading it to look for additional investment.
Dallas-based Zale got some relief from its problems earlier this month. Private equity firm Golden Gate Capital lent $150 million to the largest North American jewelry store operator by store count and took a 19.9 percent stake, becoming its second-largest shareholder.
That investment was a cornerstone of the company's efforts to right itself and will help it return to profitability, interim Chief Executive Officer Theo Killion said in a statement on Wednesday 26 May. "We have completed the initial stages of our turnaround plan," he added.
Killion was named interim CEO in January after Zale ousted several top executives.
The company's net loss narrowed to $12.1 million, or 38 cents per share, in the third quarter ended on April 30 from $19.5 million, or 61 cents per share, a year earlier.
Zale also said it had cut its long-term debt load to $299 million as of April 30 from $333 million a year earlier.
FEWER STORES, HIGHER MARGINS
Overall sales fell 5.1 percent to $359.8 million. Much of that decline came from having 149 fewer stores as of April 30 than it did a year earlier. It now operates about 1,900 stores.
The store closings largely explain the 9.2 percent decline in inventory levels as of April 30, the company said. In turn, that leaner inventory management helped it reduce discounting and boost gross margin by 0.7 percentage points to 50.8 percent during the quarter.
Despite the easing of its sales declines and the new investment, investors still appear to be concerned about Zale's prospects.
As of April 30, about 14 percent of Zale shares were held short by investors betting the price would fall. That is far above the 3.5 percent average for New York Stock Exchange-listed stocks.
Zale's shares closed at $2.68 on Tuesday 25 May, down 68.5 percent from a yearly high reached in September. The stock was up 9.3 percent at $2.93 in trading before the market opened on Wednesday 26 May.
Signet and upscale jeweler Tiffany & Co (TIF.N) will report their earnings on Thursday 27 May.
(Reporting by Phil Wahba; Editing by Lisa Von Ahn)
© Thomson Reuters 2023 All rights reserved.