Zale interim CEO gets top job; Breeden quits board
NEW YORK, Sept 23 (Reuters) - Struggling jewelry chain operator Zale Corp (ZLC.N) named Interim Chief Executive Theo Killion to the top job permanently on Thursday and gave him a seat on its board, saying he successfully led the company through the first stages of its turnaround.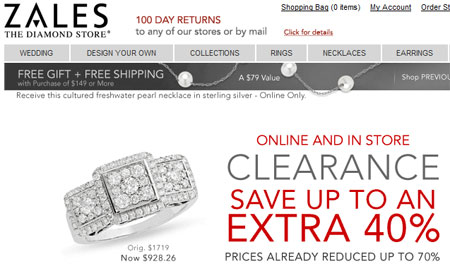 Zale Corp's Etail outlet, Zales.com
Zale, based in Dallas, also said Richard Breeden, a former U.S. Securities and Exchange Commission chairman who heads Breeden Capital Management, Zale's top shareholder with a stake of 28.3 percent, resigned from the board.
Before joining Zale in 2008 as an executive vice president, Killion served as an executive at retailers such as Limited Brands Inc (LTD.N) and Tommy Hilfiger.
Killion had been serving as interim CEO since Jan. 13, when former CEO Neal Goldberg and two other top executive, Chief Merchandising Officer Mary Kwan and Chief Stores Officer William Acevedo, quit amid a major management shake-up following weak holiday sales.
Zale said Kenneth Gilman, who spent 25 years at Limited Brands, including time as its Chief Financial Officer, has joined its board. Gilman also sits on the board of Liz Claiborne Inc (LIZ.N).
The company, which operates chains such as Zales Jewelers in the United States and Peoples Jewellers in Canada, has been losing sales and market share for several quarters to rivals such as Kay Jewelers parent Signet Jewelers Ltd (SIG.N), which serve the middle market for jewelry.
In its most recent earnings report, Zale posted a smaller third-quarter loss as more shoppers paid full price for its jewelry and sales declines moderated.
Sales at stores open at least one year fell 2.2 percent in its third quarter, an improvement from the 20 percent decline for the year-earlier period. Zale is will report its fourth quarter results in the coming weeks, but has not announced a date.
In May, Zale secured funding from Golden Gate Capital in exchange for giving the private equity firm warrants to buy about 25 percent of the retailer's shares.
Zale shares finished the day at $1.99, down 75.9 percent from a yearly high of $8.26 last October.
(Reporting by Phil Wahba; editing by Andre Grenon)
© Thomson Reuters 2023 All rights reserved.