Who's Next and Première Classe see a decline in international visitors
WSN Developpement has just published the report for the trade shows it (co-)organised at the beginning of September. Even though Who's Next and Première Classe reported a 6% increase in attendance rate, with a little over 48,700 people registered, both saw a decrease in visitors from abroad, showing a particular decline in the number of American (-28%) and German (-33%) visitors. According to the report, international visitors represented 32% of the total.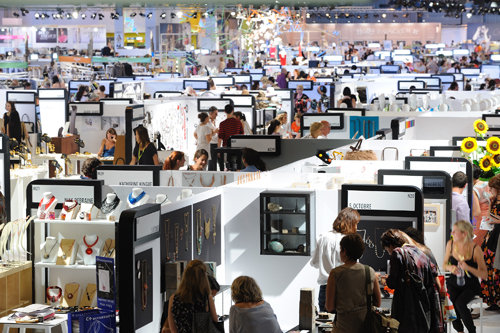 Première Classe September 2011 edition (photo by Carole Desheulles)
As for Who's Next Prêt-à-Porter Paris, WSN's new trade show concept to be launched in 2012, the goal is to have 50% of its visitors coming from abroad in just two years from now. Today, Prêt-à-Porter Paris already seems close to achieving such a ratio, as 42% of visitors at its last September edition came from overseas. In total, Prêt-à-Porter Paris also saw an increase (although slight) in attendance.
However, shoe fair Mess Around, which is half-owned by WSN Developpement, suffered from a small 4% decrease in its number of visitors, of which 80% were French. The organisers were nevertheless pleased with the fact that the fair showcased 70 new brands.
Finally, WSN's new fast-fashion fair Sixty Days, organised together with Eurovet, saw a total of 3,000 visitors present at its launch edition held at the Porte de Versailles. In spite of all the criticism it received, organisers have said that they will certainly carry on with the new trade show. WSN Developpement announced that the team "will draw a lesson from this first session and put it into perspective within the changes announced for 2012."
Copyright © 2023 FashionNetwork.com All rights reserved.