Warnaco offsets its European difficulties with expansion in Asia and Latin America
In terms of operating profit, Asia became the number one segment for the Warnaco Group. The Calvin Klein licensee, whose portfolio also includes Speedo, Chaps, Warner and Olga, in fact, saw its Asian business (to the tune of 17 million euros) bring in more revenue than its domestic U.S. market (16 million euros).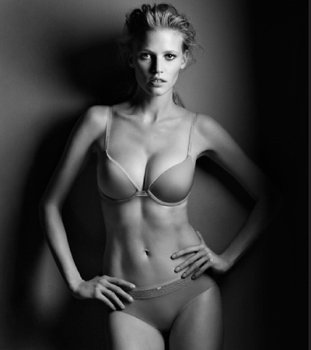 Warnaco's "Intimate Apparel" sector revenue rose by 11% - Photo Calvin Klein Underwear
The United States remains the leading market for the group in terms of revenue, accounting for 38% of the 466 million euros (645 million dollars) made ​​during the third quarter ended October 1. It is ahead of Europe (131 million euros / 180 million dollars), Asia (94 million euros / 129 million dollars) and Latin America (45 million euros / 61.8 million dollars).
But, while the total revenue for the group increased by 8% over the same period a year earlier, the U.S. experienced a decline of more than 3% while international sales improved by 16%. "Our progress, as compared to the past year, led by Asia (+29%) and Latin America (+30%) which more than offset the expected drop in our turnover in the United States, is primarily related to the management of shipping targeted products," said Joe Gromeck, CEO of Warnaco. "We again recorded a strong growth in our operating results in Asia and Latin America. And despite a difficult market in Europe and compressed margins in the U.S., we were able to maintain a double digit operating margin this quarter."
The group's operating profit, however, shows a decline of nearly 5%, falling to 47 million, dragged down by a decline of 27% in United States and 69% in Europe. Europe is well positioned behind Asia and Latin America with 5.8 million in operating revenue. In terms of segment, if "sportswear" remains the most important as far as sales, it is the "Intimate Apparel" segment that proved to be the most interesting for the American group. While its revenue rose 11% to 179 million euros, its operating margin exceeded 15%.
However, the group, which saw Calvin Klein sales increase by a mere 10%, showed an increase of 30% in its direct sales thanks to the increase in its store network. Similarly, these were up 2%. Wholesale (+1%), however, continues to represent 71% of Warnaco's total revenue.
For the full fiscal year 2011, the group expects a 10 to 12% increase in its sales. However, it is careful in specifying its operating profit estimate, seeing as it was down nearly 8% nine months into the year.
(1 EUR = 1.37 USD)
Copyright © 2023 FashionNetwork.com All rights reserved.