Wal-Mart gets sympathetic US court bias case hearing
March 29 - Wal-Mart got a sympathetic hearing from several Supreme Court justices on Tuesday as the retailer sought to prevent female employees from bringing the largest class-action sex-discrimination lawsuit in history.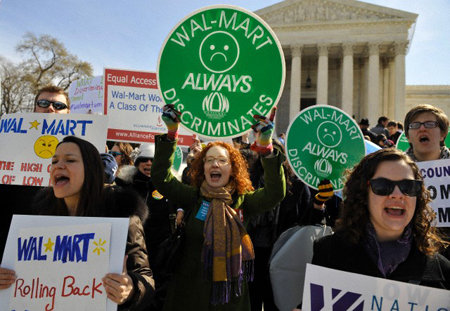 March 29 - Demonstrators rally in support of Wal-mart female workers outside the U.S. Supreme Court in Washington D.C. on March 29th 2011.
The justices sharply questioned whether more than a million female employees can join together against Wal-Mart Stores Inc, accused of paying women less and giving them fewer promotions.
Justice Anthony Kennedy, a moderate conservative who often casts the decisive vote on the nine-member court, said, "I'm just not sure what the unlawful policy is."
Another justice, Antonin Scalia, said he felt "whipsawed" by the plaintiffs' argument and said they had not made clear whether it was Wal-Mart's corporate culture or local store managers who were allegedly at fault. "Which is it?" he asked.
Scalia questioned if it would be fair to the company, the world's biggest retailer, for the case to proceed. "Is this really due process?" he asked.
Potentially liability could reach billions of dollars.
But even if Wal-Mart loses at the Supreme Court and then at trial, financial analysts said the Bentonville, Arkansas-based company has more than enough cash to make a big payout with little impact on its profits.
A crowd of protesters gathered outside the court, shouting "Fair pay now" and carrying signs such as "Stop discounting the women of Wal-Mart" and "The women of Wal-Mart are not worthless."
Chris Kwapnoski, a 24-year Wal-Mart employee and one of the named plaintiffs in the case, told reporters after the arguments, "We're not going to lose."
She recalled being told by a manager to "brush the cobwebs off" and "doll up" if she wanted advancement.
"Wal-Mart is trying their level best to keep us out of court so the facts will not be presented to the public at large or before a sitting jury," said Betty Dukes, a Wal-Mart employee in Pittsburg, California, who first filed a lawsuit against the retailer in 2001.
Gisel Ruiz, a Wal-Mart executive vice president, said after the arguments, "We continue to have strong anti-discrimination policies in place, a strong record of advancement of women and we are always looking to be better."
The court is likely to make a ruling by late June. The decision could change the legal landscape for workplace and other class-action lawsuits, affecting a similar case against Costco Wholesale Corp.
Shares of Wal-Mart, a component of the Dow Jones industrial average, rose 7 cents to $52.26 on Tuesday.
CLOSELY WATCHED BY BUSINESS
Businesses say a Wal-Mart defeat could make every large corporation vulnerable to sweeping allegations of employment bias and would water down class-action requirements.
The Supreme Court is only deciding whether the lawsuit can go to trial as a group. If the court rejects the class-action status, the individual women still can sue, both sides in the case say.
Large class-action lawsuits make it easier for big groups of plaintiffs to sue corporations and they have led to huge payouts by tobacco, oil and food companies.
Wal-Mart's attorney, Theodore Boutrous, said female employees in different jobs and in different stores do not have enough in common to be in a single class-action lawsuit.
"It's not fair to anyone to put this all into one big class," he told the justices, adding that the company has a strong policy against discrimination.
Joseph Sellers, an attorney for the women, argued the class-action lawsuit should be allowed to go to trial for a decision on the merits of the claims. "This is an extraordinary case," he said.
Women's groups have said a Wal-Mart victory could signal a significant retreat for women's rights in the workplace.
Companies have sought to limit such lawsuits to individual or small groups of plaintiffs. The Supreme Court, with a conservative majority, has often agreed.
Sanford Bernstein analyst Colin McGranahan said he estimates a settlement could cost roughly $1.5 billion. That equates to 26 cents per Wal-Mart share, or less than 0.5 percent of the company's current share price.
He said Wal-Mart could "easily" fund that through existing liquidity or free cash flow, with less than 1 percent impact on its earnings per share.
Chief Justice John Roberts cited Wal-Mart's policy against discrimination and asked whether its pay disparity between men and women was less than the U.S. average.
The Supreme Court case is Wal-Mart Stores Inc v. Betty Dukes, No. 10-277.

By James Vicini
(Additional reporting by Jeremy Pelofsky and Jessica Wohl in Chicago, editing by Philip Barbara)
© Thomson Reuters 2023 All rights reserved.