Vuitton lifts classics prices by up to 9%
PARIS, Sept 30 (Reuters) - Louis Vuitton (LVMH.PA) has raised prices for monogram handbags and other leather goods considered classics by up to 9 percent in the euro zone, a source familiar with the matter said on Thursday.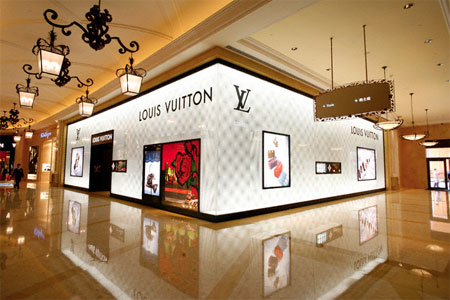 Louis Vuiton Store in Four Seasons Hotel Shopping Arcade in Macau, China. Photo : Corbis
The move reflects the rise in raw material prices such as leather and cotton, the source added.
"The increase will be of between zero and 9 percent, depending on the bag," the source said.
Louis Vuitton, which contributes half of LVMH's operating profit, also lifted prices, by 2 percent, in July.
LVMH shares, which rose as much as 2.43 percent after the news, were up 2.25 percent by 1441 GMT.
The price rise comes two weeks after Louis Vuitton decided to close Parisian shops an hour early to conserve stock ahead of the Christmas rush.
Louis Vuitton shops make up a significant portion of the French brand's western European revenue.
Analysts said the price increase was also probably intended to close the gap between Asian prices and European prices.
"They (Louis Vuitton) admitted last week they had a pricing gap problem, with Japan and China too high vs Europe," said luxury goods analyst Luca Solca at Bernstein in London.
Louis Vuitton and other similar brands such as Hermes (HRMS.PA) and Gucci (PRTP.PA) have enjoyed a stronger than expected pick-up in recent months, leading analysts to upgrade their earnings forecasts for the year.
Louis Vuitton declined to comment.
(Reporting by Astrid Wendlandt; Editing by James Regan and David Hulmes)
© Thomson Reuters 2023 All rights reserved.