Valentino invests 250 million euros to double retail presence
Luxury Italian group Valentino, which changed hands from British investment fund Permira to Mayhoola, a business entity entirely controlled by the Qatar royal family for the sum of 720 million euros, has approved a huge investment plan. The plan, which will involves investing 250 million euros over the next four or five years, will see the label expand its network of stores across the world.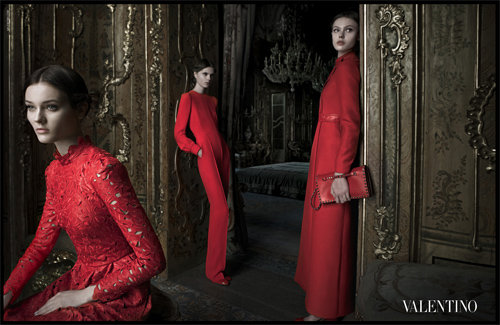 Womenswear, Autumn/Winter 2012/2013 (photo: valentino.com)
Thanks to the financial resources at its disposal since the acquisition by the Qataris, tens of millions of euros have already been injected into the company's capital, allowing the label to embark on an ambitious growth plan.
Stefano Sassi, CEO of Valentino recently said in Italian newspaper 'Corriere della Sera', "After having rethought the company's organization, image and product, it is important to now focus on the quality and the visibility of our various points-of-sale across the world. They need to big and they need to be well-located."
Valentino Fashion Group is looking to double its retail presence to reach 160 stores in the next five years. Of the 80 Valentino store – most of which are directly operated by the brand - 20 have been refurbished to reflect the label's new concept designed by British architect David Chipperfield. Areas of focus for the expansion are Europe, the United States and Asia.

"One of the cornerstones of our strategy our menswear offering, which has enormous potential," continued Stefano Sassi. Menswear, under the artistic direction of Maria Grazi Chiuri and Pierpaolo Picciolo, now shows at Paris Fashion Week. The French capital will also be home to the brand's first men's concept store, located at 27 rue du Faubourg Saint-Honoré.

Valentino Fashion Group reported revenue of 400 million euros in 2012, an increase of 21% on 2011, and operating profit of 32 million euros, a 43.3% increase. For the first quarter of 2013, Valentino sales increased by 23%.
Copyright © 2023 FashionNetwork.com All rights reserved.