Urban Outfitters profit tops Wall St view by penny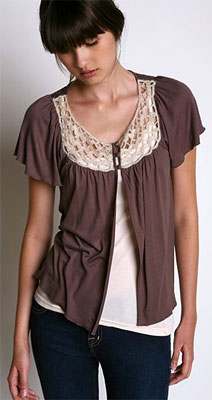 www.urbanoutfitters.com
* Q3 EPS of 36 cents ex-items tops Wall St view
* Sales have slowed in November from October's rate
* Operating margin improves 47 percent
* Shares down 5 percent
(Adds CEO, analyst quotes; byline; previous NEW YORK)
By Alexandria Sage
SAN FRANCISCO (Reuters) - Urban Outfitters Inc reported a 31 percent rise in quarterly net profit on Thursday, as the apparel, accessories and home goods retailer got a boost from higher profit margins and sales gains at its chains.
But the operator of the Urban Outfitters, Anthropologie and Free People chains of stores said that October's brisk selling had slowed, and challenges lay ahead.
"The sales trend thus far in November has slowed from our brisk October pace and while we cannot forecast the fourth quarter, we certainly expect the months ahead to be challenging and we are prepared to respond," Chief Executive Glen Senk said on a conference call with analysts.
Net income rose to $59.3 million, or 35 cents a share, in the third quarter that ended on Oct. 31, from $45.4 million, or 27 cents a share, a year earlier.
Excluding a $2.9 million write-off of an auction rate preferred stock investment related to the demise of Freddie Mac, the company earned 36 cents per share, a penny above the analysts' average forecast, according to Reuters Estimates.
Leveraged rent, fewer markdowns and initial markups helped the company in the quarter.
"Very few people are seeing improvement in markdowns. That one is huge," said Needham & Co analyst Christine Chen.
"The fact that October was a better month than September was mind boggling because I can't say that for anyone else," she added.
Last week, Urban Outfitters said total sales rose 26 percent to $478 million in the quarter, while same-store sales, a key gauge of retail performance, jumped 10 percent.
Same-store sales at Urban Outfitters, which sells casual, hip apparel, accessories and home decor to teenagers, rose 17 percent. Same-store sales rose 2 percent at the more upscale Anthropologie chain and 4 percent at the smaller Free People.
The company, which has been working to reduce inventory and expenses, said its operating margin had improved by 47 percent.
Accessories, which tend to carry higher profit margins than apparel, were the best performers at all three chain stores, executives said, and direct-to-consumer sales rose 41 percent.
Senk cited the three chains' "highly differentiated and well positioned product assortment."
Urban Outfitters, whose rivals include Aeropostale Inc and American Eagle Outfitters Inc , said it would continue to make investments and planned to open between 15 to 20 Anthropologie and Urban Outfitters stores in 2009, and 10 to 15 Free People stores.
"Our goal is to continue with our expansion assuming that the landlords meet our requirememts," said Senk. "We think we can achieve rent reductions and capex reductions.
The Philadelphia-based company's shares, which are down 44 percent since January, were down 78 cents, or 5.1 percent to $14.43 in midday trade on the Nasdaq.
(Additional reporting by Martinne Geller in New York and Dilipp S. Nag in Bangalore, editing by Leslie Gevirtz)
© Thomson Reuters 2023 All rights reserved.