Under Armour prelim results miss view; shares tank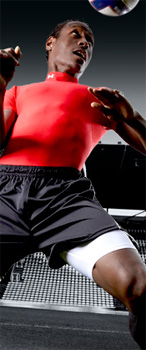 Under Armor football
* Prelim Q4 EPS 16 cts-18 cts; Wall St view 49 cts
* Prelim Q4 revenue $179 mln-$180 mln misses Street view
* Shares down 19.6 pct in premarket trade (Adds details, updates share activity)
NEW YORK, Jan 14 (Reuters) - Athletic clothing and shoe maker Under Armour Inc (UA.N) reported preliminary fourth-quarter results on Wednesday that were way below analysts' estimates, sending shares down nearly 20 percent.

It cited weak orders and more order cancellations in its U.S. wholesale business and lower-than-expected online sales, due to the weak retail environment.
The company, which plans to release its full report on Jan. 29, said it expects earnings per share of 16 cents to 18 cents, and revenue of $179 million to $180 million in the quarter ended Dec. 31.
Analysts on average had been expecting the company to earn 49 cents per share on revenue of $209.61 million, according to Reuters Estimates.
In light of the current economy, Chief Executive Kevin Plank said Under Armour will focus more precisely on cost management and prioritizing its investments for long-term growth.
The company said it had $100 million in cash as of the end of the year, up from $40.6 million a year ago, and that it had $25 million in debt outstanding under its $100 million revolving credit facility.
Under Armour shares were down $4.37, or 19.6 percent, at $17.95 in premarket trade, from Tuesday's close of $22.32 on the New York Stock Exchange. (Reporting by Martinne Geller, editing by Dave Zimmerman)
© Thomson Reuters 2023 All rights reserved.