Topshop eyeing US expansion
By Martinne Geller
NEW YORK (Reuters) - Topshop, the trendy mass-market fashion retailer, could eventually have about 15 stores in the United States, its billionaire owner, Philip Green, said on the eve of its first U.S. opening.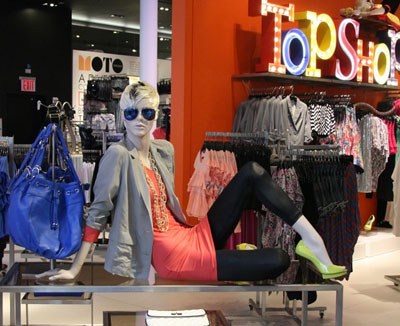 Topshop in New York
Green sees the chain, whose clothes include a line designed by fashion maven Kate Moss, concentrated in major U.S. cities, such as New York, Los Angeles and Miami.
Its first U.S. store is set to open on Thursday in Manhattan's SoHo district, not far from Bloomingdale's and Japan's Uniqlo. He estimated the initial investment in the shop was between $22 million (15 million pounds) and $24 million, which is "many miles within our comfort zone."
"We haven't stretched ourselves to do this financially," Green said, noting his company's debt to earnings ratio is less than 1.5 percent.
"We could make a deal for a billion dollars tonight and we don't need to phone anybody."
Despite a year-long recession that has curbed U.S. consumer purchasing, Green said Topshop would appeal to a variety of consumers and they would spend if the product is right.
"It's about having something that people want to buy," Green said in a telephone interview. "We're in a marketplace where people want to mix and match, brand and not brand. I think we've got a lot of the attributes people are looking for."
He cited the company's track record of setting fashion trends and delivering "good quality and great value."
Nonetheless, some analysts are cautious about Topshop's stateside success, given the poor track record of UK companies attempting to crack the notoriously difficult U.S. market.
Marks & Spencer Group and J Sainsbury have both withdrawn from the United States in recent years, while the jury is still out on Tesco Plc's convenience store venture.
"The timing doesn't look great. It looks a pretty crowded market," said Nick Bubb, a retail analyst at Pali International.
Green's company, Arcadia Group, is the United Kingdom's largest privately owned retailer, with more than 2,500 stores, plus about 420 franchise shops in Europe and Asia.
He expected market conditions in the UK to remain challenging for most of this year.
EXPANDING ELSEWHERE
Topshop developed its New York store on its own, a departure from its prior reliance on franchise partnerships. Green said the company will continue to look at other retail spaces.
"There's a lot of real estate around," Green said. "We'll have to see what we're offered on the right terms. We don't have a particular rush or a timeline."
Other attractive markets include India, China, Hong Kong, Australia, South Africa and Brazil, Green said. Topshop does not currently have stores in any of those places.
Green, whom the Sunday Times named Britain's ninth-richest person with a fortune worth 4.3 billion pounds, said he is no longer interested in buying the debt of Icelandic retail investor Baugur, which said last month it would file for bankruptcy.
He also said an acquisition of rival retailer Marks & Spencer, which he twice tried and failed to do, was not on his mind, adding: "I think I've got things to do at the moment."
However, Arcadia will look at sensible acquisitions as they come up, Green said, adding that current market conditions favour retail rather than financial investors.
"If we see something that we can't live without, that we think we can add real value to, then we'd go look at it," Green said.
"This is a market for operators ... not for clever financial deals. I'm in the operating division. I'm not in financial jiggery-pokery."
(Additional reporting by James Davey in London, editing by Leslie Gevirtz and Andre Grenon)
© Thomson Reuters 2023 All rights reserved.