Tommy Hilfiger sees no slowdown yet
By Mark Potter
LONDON (Reuters) - Fashion label Tommy Hilfiger is trading strongly despite worries over a consumer downturn, but believes financial market turmoil will eventually spill over to affect spending on upmarket brands, its chief executive said.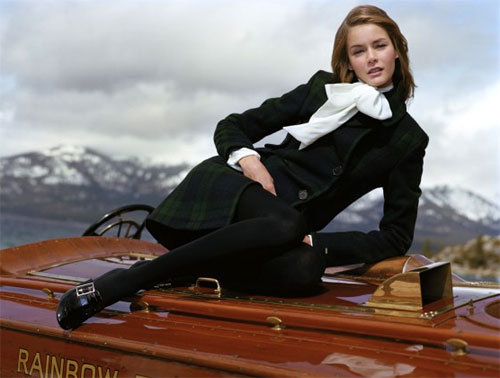 Tommy Hilfiger fall-winter 2008/2009
Fred Gehring told Reuters on Monday that the smart-casual clothing and accessories group was well placed to cope with tougher business conditions as department store customers tended to retrench to tested brands in times of uncertainty.
He also said the private equity-owned firm, whose eponymous founder remains a shareholder and designer, would take advantage of lower property prices to press ahead with expansion plans.
"Generally speaking, our business is really, really strong, and if we decide to release half-year numbers they're going to be quite impactful," Gehring said in an interview at the group's flagship London store.
Demand for high fashion and pricey accessories has been remarkably solid in recent months despite worsening economic data and profit warnings from other retailers, helped by tourist spending and shoppers' determination to give themselves a treat.
However Richemont, the world's No.2 luxury group behind LVMH , sent shivers through the industry earlier this month by saying it was starting to feel the pinch in the United States and warning of uncertain times ahead.
"I do not see signs of a slowdown yet," Gehring said.
He said comparable store sales were up by a mid single-digit percentage in Europe, by a high single-digit percentage in the United States and by a double-digit percentage within Macy's department stores -- in line with trends reported in June.
The group's wholesale orders for Spring 2009 ranges were "very strong as well," up by a high single-digit percentage.
Famed for its baggy jeans and sweatshirts plastered with its red, white and blue logo, Tommy Hilfiger runs about 800 stores worldwide. It was bought by private equity firm Apax for $1.6 billion (900 million pounds) in 2006.
BANKER BELT
Asked whether the turmoil in financial markets, which is expected to claim thousands of banking jobs, would affect consumer spending, Gehring said: "I cannot imagine it will not."
"The banker belt is an important area of spending for all luxury brands," he said.
But he said it would take some time for spending habits to change and Tommy Hilfiger was well-placed to cope.
"In tough environments, people try to take out the risk and...side with historically proven vendors," he said.
"In product terms, they tend to go a bit less fashionable and a bit more classical, which is to our benefit."
Gehring said the group was continually reviewing its expansion plans, but was not scaling back and hoped to take advantage of lower property prices in the years ahead.
"Ultimately for strong brands, this may be an opportunity, he said.
Gehring also reiterated the group, which shelved plans for an initial public offering in January because of adverse market conditions, did not expect to try again before Autumn 2009.
"Even if it takes two or three years we're not bothered," he said, adding that Apax was also relaxed about the timing.
"They're only two years into it, so there's no rush."
(Editing by Charles Dick)
© Thomson Reuters 2022 All rights reserved.