Tom Ford on dressing his "Single Man"
By Zorianna Kit
LOS ANGELES (Reuters Life!) - Fashion designer Tom Ford is best known for reinventing the house of Gucci in the 1990s and more recently, launching his own Tom Ford label.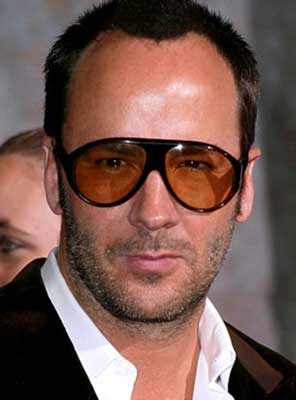 Tom Ford
But Ford has shifted gears in recent months to movie directing and his debut "A Single Man" begins playing in U.S. theaters on Friday 11 December after a run in festivals earlier this year.
Based on Christopher Isherwood's novel, the film stars Colin Firth as a man who can't bear to continue living after suffering the tragic loss of his lover.
Ford spoke to Reuters about the movie, his switch from fashion to film, and his idea of "enhanced reality."
Q: How does filmmaking compare to fashion design?
A: "Filmmaking is a totally different expression. Fashion for me is a commercial endeavor. Filmmaking is an artistic endeavor and a commercial endeavor. Working on 'Single Man' was the truest expression of anything I've ever created. It had nothing to do with fashion."
Q: Still, you had to get someone to give a fashion designer money to make a movie. How did you do that?
A: "You don't. You pay for it yourself, which is what I did. We had financing set up, but then the Lehman Bros. crash happened. The people who were investing money pulled out in early September when we were already in pre-production."
Q: What brought you to the decision to finance it?
A: "I was talking to (billionaire businessman) David Geffen, who's a friend of mine, and said: 'David, I'm trying to decide if I should just use my own money but everyone keeps telling me that's dumb.' He said: 'Invest in yourself. It's always the best investment.' I realize I'm very, very fortunate to have that ability."
Q: Exactly how much did you put in?
A: "All of it, so I know exactly how much. We worked with the union ... and the maximum you could spend was $7.2 million dollars and we came in below that."
Q: Julianne Moore was the first actor on board. How did you convince a triple Oscar nominee like her to sign on?
A: "I've known her for a long time. I've dressed her. We're friends. At one point, I said something to her about being sweet to consider this part. She said: 'I'm not sweet. I like the script. I wouldn't do this if I didn't love the script.'"
Q: You had someone else in the lead before Colin Firth.
A: "Colin was my first choice, but he wasn't available because he was going to be shooting 'Dorian Gray.' So I cast another actor but when our production schedule moved, he dropped out. Colin was wrapping 'Dorian Gray.'"
Q: He won best actor at the Venice film festival. Now there's talk about a shot at an Oscar. What do you think?
A: "He absolutely deserves an Oscar. We shot this film in 21 days, shooting night and day and Colin's in every single scene. He has an ability to show an enormous amount of what his character is thinking or feeling without moving his face -- just telegraphing it. That was very important for this character."
Q: Every person in this movie is drop dead model gorgeous -- like they could appear in one of your fashion campaigns.
A: "Honestly, I didn't even notice it was populated with beautiful people. Although Colin's character is going through what may be the last day of his life, so he's struck by beauty everywhere. I believe in a kind of enhanced reality. A long time ago, movies used to be that way. If I were working in a different era, I would have had to have been at MGM."
Q: How so?
A: "Alfred Hitchcock -- and I'm certainly not comparing myself to him -- everything he did was stylized and every single person was gorgeous. It was enhanced reality. Style without substance isn't worth very much."
(Editing by Bob Tourtellotte and Patricia Reaney)
© Thomson Reuters 2023 All rights reserved.