TJX move upscale may blur lines in high-end retail
By Phil Wahba - Analysis
NEW YORK (Reuters) - Off-price retailer TJX Cos Inc has capitalized on the woes of its higher-end rivals in the past year by snapping up tons of their unsold merchandise and winning a new contingent of shoppers.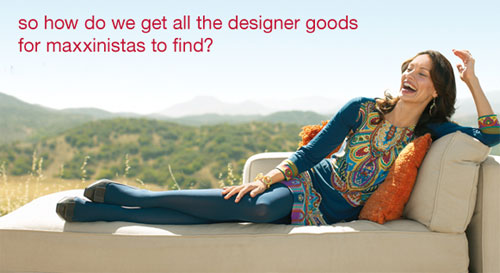 Photo: www.tjmaxx.com
But that success to some degree means that TJX relies on the miscalculations of its competitors and could be short-lived if full price chains cut back too far on orders and limit the amount of excess supply, analysts say.
The presence of fancier brands at TJX stores, which include the T.J. Maxx and Marshalls chains, is also drawing it into more direct competition with the likes of Saks Inc and Macy's Inc, whose upscale Bloomingdale's chain is set to open its own off-price outlets later in 2010.
"We are actually seeing better vendors and more product than ever that is pretty high quality at T.J. Maxx," said Laura Champine, a Cowen & Co analyst.
TJX buys merchandise, usually returns from department stores, at below-wholesale prices and sells it at deep discounts. That has helped the company cultivate a loyal following among fashionistas and it wants to appeal to them beyond the random "find" at a discount store.
"We are extremely confident that the paradigm has shifted, that we have been able to cull an entirely new group of customers," said Sherry Lang, a spokeswoman for TJX.
T.J. Maxx and Marshalls will hold an industry preview in Manhattan on Wednesday 3 February of their spring and summer lines that are being touted as having new merchandise from top designers.
Already, a T.J. Maxx shopper may find brands such as Theory, Ralph Lauren, Tahari, Seven for all Mankind, Rock & Republic, and BCBGMaxAzria. More designers are finding TJX to be a reliable way to sell their wares in a weak economy, rather than just a place to dump rejects or overproduction.
But as TJX ups its fashion quotient, it could face potential product shortages. Upscale retailers have become extra cautious in how they place orders, reflecting the newfound frugality of luxury consumers.
"Certainly that supply chain is tightening up first, and that is where you would see an issue first," said Barclays Capital analyst Jeff Black, referring to a potential shortage of higher-end products TJX can tap.
Black lowered his price target on TJX shares last month, saying in a note "it's hard to argue that we'll see a better environment for TJX to purchase its apparel and home categories." That could limit TJX's margin growth, he wrote.
IN THE DRIVER'S SEAT
Nonetheless, analysts including Black say TJX sales and profits will grow in 2010, with consumers still under pressure and vendors desperate for sales they can bank on.
"They are going to be in the driver's seat for a while," said Candace Corlett, president of WSL Strategic Retail.
TJX's ability to clear a lot of product and its easier sales terms have led vendors to ramp up production specifically for the chain, analysts suspect.
Full-price retailers typically negotiate tough return privileges, markdowns and advertising allowances, terms that add up and eat away at the manufacturer's margins.
TJX, in contrast, negotiates more advantageous prices for itself. But its simpler terms give vendors the peace of mind of knowing that once they've sold an item, it's sold.
"They'll pay me cash and they'll pay me right now, so it's actually a pretty compelling way to do business," said Cowen's Champine.
That position of strength is also shared by its main rival Ross Stores Inc, whose annual sales are about a third of TJX's expected fiscal 2010 sales of $20.3 billion.
If full-price retailers cut back on their orders too much, it could erase that advantage, putting pressure on the prices TJX can charge, said Madison Riley, a managing director at retail consulting firm Kurt Salmon Associates.
And the arrival of the Bloomingdale's outlets later this year will add to that pressure, he said.
"It does spell more competition between off-price places as they all vie for a lower level of excess inventory," he said.
For now, though, TJX seems to coping well with the tighter inventory control of its rivals.
Sales at its stores open at least a year rose 14 percent in December, far outpacing most rivals, and analysts on average expect TJX to report fourth quarter revenue of $5.95 billion for the fiscal year 2010, up 10.6 percent over a year earlier, according to Thomson Reuters I/B/E/S.
TJX shares have nearly doubled in the past year, reaching a ratio of nearly 13 times fiscal 2011 profits. That puts TJX in about the same range as Ross and Macy's, with ratios of 12 and 11 respectively, but less than J.C. Penney at 17 and upscale retailer Nordstrom Inc at 15.
Analysts agree with the company that a dismal 2009 for retail sent more top-end shoppers into its stores.
But WSL's Corlett cautions TJX not to go too far upscale, saying it could confuse TJX's traditional bargain-hunting shoppers and blur its brand, even as luxury retailers such as Saks move further toward lower price points.
"TJX has been bringing in a lot of $200 bags -- when they bring in high priced items, they have to be careful about how it impacts the T.J. Maxx image," Corlett said.
(Reporting by Phil Wahba; Editing by Michele Gershberg and Richard Chang)
© Thomson Reuters 2023 All rights reserved.