Titan Ind sees sales to grow 25% on year
Nov 24 - Jewellery and watch retailer Titan Industries Ltd expects FY11 sales to grow about 25 percent on year, helped by new store launches as demand for its products rise, a top official said on Wednesday.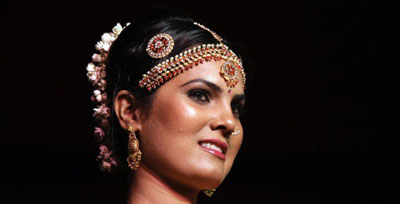 Wedding jewellery collection by Tanishq, a Titan Industries Ltd company
Titan, which has 600 outlets at present, plans to add 80 more stores across formats by FY11 end, Managing Director Bhaskar Bhat told reporters.
The company's net sales for FY10 was at 46.74 billion rupees, up 23 percent on year.
Titan, part of the diversified Tata group, may open as many as 250 stores in FY12, he said.
Bhat said profit growth would be higher than sales growth, as margins improved, especially in the jewellery segment.
"We have seen a better product mix both in our watches and jewellery segment," Bhat said, adding, Titan has witnessed robust sales in the higher margin diamond jewellery segment.
Titan retails watches under brands such as Titan and Sonata, and jewellery under Tanishq and Goldplus brands. The company has accessories such as eyewear brand Titan Eye and is also into the precision engineering business.
Titan, which had recently started exporting watches to South Africa, plans to increase its market share in Asian countries.
"We are focused on stabilising in big markets like Malaysia, Vietnam and Singapore," he said, adding Titan was also considering foraying into Indonesia.
Titan's international watch sales currently contributes 8 percent to its total watch sales. It intends to increase this 12 percent by 2014/15. At present, the company only exports watches.
Bhat also said Titan has spent less than half of its targeted FY11 capex of about 1.5 billion rupees.
"Majority of our capex will be utilised in the second half... mostly in retail and IT," Bhat said.
Shares of Titan Industries closed 1.05 percent lower at 3,716.35 rupees in a weak Mumbai market.
(Reporting by Aniruddha Bose, Editing by Rajesh Pandathil)
© Thomson Reuters 2021 All rights reserved.