Tiffany sales growth shows signs of slowing
Concerns about slowing sales momentum took some of the luster off Tiffany & Co's (TIF.N) stock amid signs that European and U.S. economic distress are weighing on luxury consumers, and shares fell 9 percent.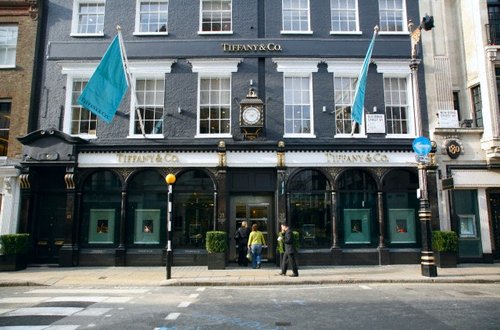 Exterior of Tiffany the Jewellers on Old Bond Street / Photo: Corbis
The upscale jeweler, a stock market darling for how fast its international business has grown, reported third-quarter earnings that beat analysts' estimates but gave a holiday-quarter profit and sales outlook that missed Wall Street expectations.
Chief Executive Michael Kowalski said in a statement there had been "recent sales weaknesses in Europe and in the eastern part of the U.S."
And the company said there is reason to be cautious.
Chief Financial Officer Pat McGuiness told analysts on a conference call that Tiffany is "cognizant of the challenging economic conditions and uncertainties in a number of markets."
Globally, Tiffany's sales in the third quarter were up 17 percent in the third quarter, excluding the impact of currency translation.
But that is below the 19 percent pace of the first three quarters combined. The slowdown was limited to the Americas and Europe, which together make up nearly 60 percent of Tiffany's business. In Japan, its second biggest market, and elsewhere in Asia, the pace picked up.
(For a graph showing U.S. jewelry spending and stock market volatility, please see: link.reuters.com/zuq35s)
Tiffany's shares traded late Monday at a forward earnings-price ratio of 23.31, above the 16.95 for the retail sector as a whole, according to Thomson Reuters.
That set up Tiffany's shares for a fall at any sign of trouble, said Morningstar analyst Paul Swinand, calling them "richly" valued.
Another concern is that gross margin, a measure of profitability on jewelry sold, slipped, Swinand said.
Tiffany's gross margin edged down 0.6 point to 57.9 percent in the third quarter, largely because it sold more pricey jewelry, which the company said has lower margins. The markup of very-high-end jewelry is typically lower, analysts said.
CLOUD ON LUXURY'S HORIZON
The mentions of trouble in Europe and the United States are the latest sign that months of stock market volatility and fears about global economic growth might finally be taking a toll on luxury consumers' confidence.
In October, Saks Inc (SKS.N) and Nordstrom Inc (JWN.N) reported sales that disappointed Wall Street, and earlier this month Saks CEO Steve Sadove said the stock market's gyrations gave the department store chain reason to plan "cautiously."
Tiffany shares were down 9.03 percent to $66.98 and brought down other luxury chain's shares. Saks was down 3.6 percent, Coach Inc (COH.N) 2.2 percent and Ralph Lauren Corp (RL.N) 2.7 percent. The Standard & Poor's Retail Index .RLX was up 0.4 percent.
Still, Saks, Neiman Marcus Group Inc NMRCUS.UL and Nordstrom Inc (JWN.N) all recently reported big sales gains for the most recent quarter. And on Monday, Neiman CEO Karen Katz said: "The most affluent luxury customer is spending with confidence."
Tiffany expects sales to rise at a low-teens percentage rate for the holiday quarter. In the third quarter, sales at stores open at least a year, excluding the effect of currency translations, rose 16 percent.
Tiffany said it expects fourth quarter earnings per share of $1.48 to $1.58, below the $1.63 Wall Street analysts were expecting, according to Thomson Reuters I/B/E/S.
Tiffany reported net income of $89.7 million, or 70 cents per share, for the third quarter ended October 31, up from $55.1 million, or 43 cents per share, a year earlier and above the 61 cents a share that analysts were expecting, according to Thomson Reuters I/B/E/S.
(Reporting by Phil Wahba; Editing by Lisa Von Ahn, Dave Zimmerman)
© Thomson Reuters 2023 All rights reserved.