Tiffany's Japan sales recover
May 26th - Tiffany & Co's sales in Japan did much better than expected after the March earthquake and tsunami there, and the upscale jeweler's sales soared in its other markets during the first quarter, sending shares to an all-time high.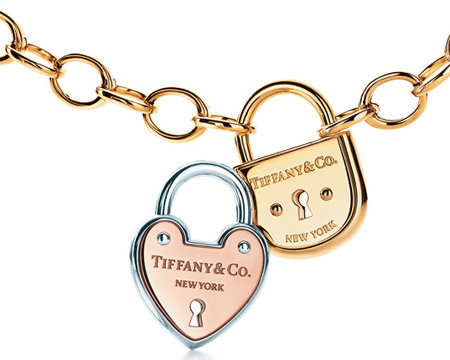 Tiffany locks
Tiffany's sales were also strong in its home U.S. market, helped by a 23 percent rise at its famed Fifth Avenue store in Manhattan. Globally, sales were up 20 percent, the company said on Thursday.
The company expects a modest decline in sales for the year in Japan, Tiffany Chief Financial Officer James Fernandez said on a conference call. It gets 18 percent of its total sales in Japan.
"A lot of the worries about Japan can be put to rest," said Edward Jones analyst Matt Arnold.
Sales in Japan, where the chain operates 57 stores, rose 7 percent during the quarter. Excluding the impact of the strong yen, sales fell 3 percent, but Tiffany initially thought in March they would fall 15 percent.
In April, same-store sales rose 6 percent in Japan.
At the same time, middle-class shoppers are snapping up jewelry, as Signet Jewelers Ltd reported large U.S. sales gains, with strength at both its mid-market Kay Jewelers chain and its more upscale Jared stores.
Zale Corp earlier this week also reported sales gains.
"There is a targeted willingness to splurge again," Arnold said.
There has been no "meaningful resistance" from customers over paying higher prices put in place to mitigate rising gold, silver and diamond costs, a Tiffany spokesman said on the call.
Net income rose 25.8 percent to $81.1 million, or 63 cents per share, during the quarter that ended on April 30, from $64.4 million, or 50 cents a year earlier.
Excluding one-time items, Tiffany earned 67 cents a share, beating Wall Street forecasts of 57 cents, according to Thomson Reuters I/B/E/S.
Tiffany raised its full-year profit outlook by 10 cents and now expects to earn between $3.45 and $3.55 per share in the fiscal year that ends in January 2012. That compares with Wall Street forecasts of $3.33.
Its shares rose $4.24, or 6.1 percent, to $74.28, an all-time high. Signet sales were up 5.6 percent to $45.99.
Globally, Tiffany sales rose 20 percent to $761 million in the first quarter, with the largest gains in Asia outside Japan and in the Americas.
Tiffany forecast Thursday that global net sales would rise by a mid-teens percentage in the current quarter.
Sales in Asia outside Japan rose 37 percent, while in the Americas, they were up 19 percent.
Same-store sales at Signet Jewelers' Kay Jewelers chain rose 13.9 percent and 11.8 percent at its Jared chain, where items are more than twice as expensive. At its British stores, which make up one-sixth of sales, they rose 0.2 percent, an improvement after several quarters of decline.
Signet shares rose $1.04, or 2.4 percent, to $44.59 on the New York Stock Exchange.
(Reporting by Phil Wahba. Editing by Maureen Bavdek and Robert MacMillan)
© Thomson Reuters 2022 All rights reserved.