Tiffany gives upbeat 2012 forecast
Tiffany & Co forecast higher sales for 2012, helped by further expansion in Asia and the Americas, and the high-end jeweler said that after a bumpy holiday season, business so far this year was on track with its projections.
Shares of the company were up 3.7 percent at $71.25 in premarket trading.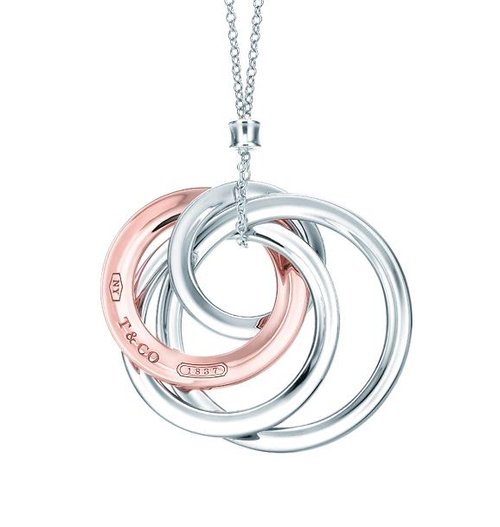 Tiffany & Co Sterling silver, gold and now RUBEDO™ metal
The New York-based chain said in January that its U.S. and European customers had been "restrained" in their shopping because of volatile stock markets and the eurozone crisis, leading to softer-than-expected sales for the important holiday season.
"That was the first warning that the luxury party was coming to an end, but now it seems it was just a speed bump," said Morningstar analyst Paul Swinand.
U.S. stock markets have since rallied, and the debt crisis in Europe has eased. In a statement, Tiffany Chief Executive Officer Michael Kowalski said global sales growth so far this year was "tracking in line" with the company's expectations.
Tiffany expects fiscal-year global net sales to be up 10 percent, led by gains in Asia and the Americas. That would be an improvement over the soft holiday sales, but still below last year's 18 percent clip.
The company forecast a profit of between $3.95 and $4.05 per share, above Wall Street estimates of $3.93, according to Thomson Reuters I/B/E/S.
Tiffany, which operates 247 stores worldwide, plans to open another 24 this year -- nine in the Americas, seven in the Asia-Pacific region, five in the United Arab Emirates and three in Europe.
Net sales increased 8 percent to $1.19 billion in the fourth quarter ended on Jan. 31. Sales at stores open at least a year rose 5 percent.
European customers grew nervous as the eurozone crisis hit a crescendo during the quarter. Sales at stores open at least a year fell 2 percent there, the only market to see a decline.
There was also some pullback in New York. Sales at Tiffany's iconic Fifth Avenue flagship were up a modest 2 percent despite an influx of tourists that helped other luxury stores, such as the Saks Fifth Avenue flagship, overcome a drop in Wall Street bonuses.
Asia excluding Japan remained a major source of growth for Tiffany, with same-store sales up 13 percent. That market now accounts for almost one-fifth of overall sales.
In Japan, Tiffany's second-largest market after the United States, business continued to recover from the tsunami and nuclear disaster of a year ago, with same-store sales up 4 percent.
Tiffany reported net income of $178.4 million, or $1.39 per share, for the quarter, down from $181.2 million, or $1.41 per share, a year earlier. That was below the $1.42 per share that Wall Street analysts were expecting. (Reporting by Phil Wahba in New York; Editing by Lisa Von Ahn)
© Thomson Reuters 2023 All rights reserved.