Tiffany cuts forecast after holiday sales plunge
CHICAGO (Reuters) - Tiffany & Co (TIF.N) cut its profit forecast again on Wednesday after sales over the holiday season fell 21 percent as the weak economy dealt a hard blow to the upscale jeweler, sending its shares down nearly 7 percent.
The company also said it is reviewing all elements of its cost structure.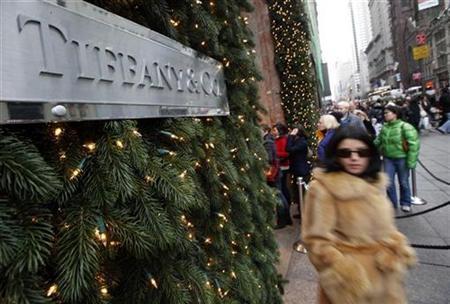 Tiffany expects earnings to fall in the fourth quarter ending on January 31. It forecast full-year earnings of $2.25 to $2.30 per share, excluding any one-time fourth-quarter charges it may incur.
Tiffany lowered its full-year earnings forecast to $2.30 to $2.50 per share in late November, just before the U.S. Thanksgiving holiday, which traditionally kicks off the holiday shopping season.
"Deteriorating global economic conditions were clearly reflected in cautious spending by Tiffany customers across the entire range of jewelry categories and price points. We believe these conditions will continue well into 2009," Chairman and Chief Executive Michael Kowalski said in a statement.
U.S. same-store sales in November and December plunged 35 percent, Tiffany said. A year ago, sales were down just 2 percent on that basis.
Total worldwide sales fell 21 percent to $687.4 million and fell 20 percent on a constant currency basis. In the 2007 holiday period, total holiday sales rose 8 percent, or 6 percent on a constant currency basis.
Tiffany forecast full-year sales of about $2.85 billion.
Shares of Tiffany were down 6 percent at $20.68 after falling as low as $20.50.
(Reporting by Jessica Wohl and Aarthi Sivaraman; Editing by Derek Caney)
© Thomson Reuters 2023 All rights reserved.