Thierry Mugler launches 'Dream Machine' application for Angel
Almost two decades since the launch of its Angel fragrance, available in eau de parfum and parfum corps, Thierry Mugler has just launched an eau de toilette spray in a new bottle in the shape of a comet. The campaign will feature Hollywood actress Eva Mendes, the new and 7th face of the perfume.


Since 1994, two years after it was launched, Angel's success cannot be denied. Ranked in the world's top 5 most sold women's fragrances, it is currently distributed in over 14,000 points of sale worldwide. Its popularity also gave rise to a growing fanbase, which the brand certainly knows how to encourage. Already taking advantage of the huge potential offered by blogs, Angel has now announced the launch of a free-of-charge application for smartphone users, called "Dream Machine".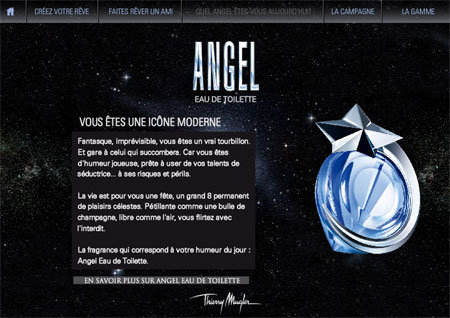 Dream Machine application
With a selection of 5 words which correspond to different essences, users will be able to select the components that will lead them to their "perfect perfume daydream", with a total of 256 possible film sequences. Aside from this game, the application also allows users to discover more about the Angle perfume and its whole range (eau de toilette, eau de parfum, parfum corps), as well as where the nearest places to buy them are.
Copyright © 2023 FashionNetwork.com All rights reserved.