Theo Fennell finds the X Factor as sales sparkle
LONDON, Dec 18 (Reuters) – The turnaround at upmarket jeweller Theo Fennell is gathering pace, helped by endorsements from celebrities like Dannii Minogue, who sported its earrings and broach on the popular X Factor TV talent show.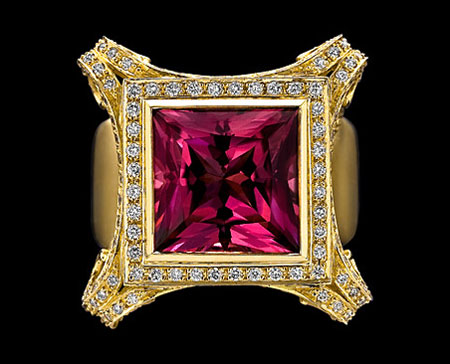 Photo: www.theofennell.com
Theo Fennell, whose eponymous founder returned to the firm in June in a bid to revive its flagging fortunes, said on Friday 18 December sales at outlets open at least a year leapt 38 percent in October and November and were up 39 percent so far in December.
That compares with a 20 percent fall in the six months to Sept. 30, when the group's loss before tax widened to 1.1 million pounds ($1.8 million) from 800,000 the year before.
The firm, whose designs have also been spotted adorning pop star Elton John, soccer player David Beckham and models Liz Hurley and Naomi Campbell, said it was looking at raising money from an equity placing next year to accelerate its recovery.
The group said the turnaround had been driven by the return of Theo Fennell as creative director and the launch in September of PHI, its first new collection for two years.
Dubbed the "King of Bling" by some newspapers, Fennell's flamboyant designs — from skull rings and diamond-studded crucifixes to solid silver Marmite lids and 18 carat gold nappy pins — became synonymous with the conspicuous consumption of the late 1990s.
He parted company with the business in February 2008 and told Reuters on his return in June that a subsequent slide in sales and profits was due more to it losing a design-led focus than to the recession.
The company's shares closed at 48.5 pence on Thursday 17 December, up from their January low of 10 pence and valuing the business at about 9 million pounds.
(Reporting by Mark Potter; editing by Simon Jessop)
© Thomson Reuters 2021 All rights reserved.