Texworld and Apparel Sourcing reinforce their international selection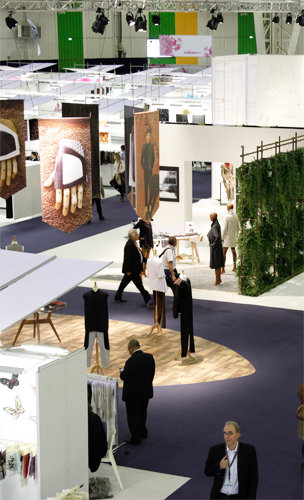 Texworld, septembre 2011
Messe Frankfurt's trade show is expecting some 630 exhibitors during its next edition which will take place from the 13th to the 16th of February at the Parc des Expositions in Bourget. This edition will be dedicated to Spring-Summer 2013 and plans to welcome close to 85 new exhibitors, with a significant increase in the show's Korean and Turkish presence.
The show will be divided into three segments. Designated in blue, My Casual View will bring together athletic wear, casual wear, swimwear et le loungewear. The pink-designated My Attractive Spirit will be dedicated to materials, print, embroidery and accessories for the feminine market. And, finally, the green My Strict Essence will be dedicated to heavy fabrics, wool, cottons and blends and dedicated to the workwear and the masculine market.
The show even aims to adapts to the current apprehension of professionals who fear a drop in consumption in the coming months. Texworld thus established the Creative Path, which groups together exhibitors who are willing to take orders of small sizes. No fewer than 123 exhibitors were present, including producers from Turkey, Korea, Japan, Hong Kong, as well as European manufacturers, especially from the Netherlands. The show's attendees will have access to minimum orders as low as 200 to 50 meters of medium and high end production. This recalls the program created last year by Texworld to help young designers provide their products in small quantities.
For its second edition, in turn, Apparel Sourcing is expecting around sixty exhibitors from China, India, Pakistan, Vietnam, as well as Europe with Italy and Portugal represented. Launched in September, the show dedicated to clothing and accessories will be dedicated in larger part to the feminine market, whereas the men's and children's markets will account for 30%. Accessories will also be represented, accounting for 20% of the product offering. The Young Designer's catwalk will show the creations fifteen young designers from three schools.
From the 7th to the 10th of February 2011, Texworld attracted 13,897 visitors, representing a slight drop compared to 2010. Despite the rising prices of raw materials, the show was nonetheless able to maintain the attendance it reached in early 2009.
Copyright © 2023 FashionNetwork.com All rights reserved.