Tesco says recovery gaining hold
By Mark Potter and Paul Hoskins
LONDON (Reuters) - Tesco Plc (TSCO.L), the world's No.4 retailer, said the global economic recovery was taking hold and saw little risk of a dip back into recession in its main British market despite a slowdown in recent sales growth.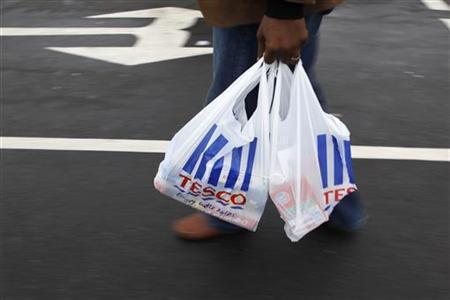 The group, which runs more than 4,300 stores across 14 countries, met forecasts on Tuesday 20 April with an 8.7 percent rise in annual profit, boosted by acquisitions in Asia and financial services, and said it was stepping up expansion plans in the year ahead.
Capital spending will rise this fiscal year to 3.5 billion pounds from 3.1 billion in the year just ended, with the group expecting to create 16,000 jobs worldwide and open around 80 percent of new selling space overseas, much of it in Asia.
"The recovery has taken hold -- strongly on a worldwide basis, which is good for Tesco, and slower but steady in the UK. There won't be a double dip (recession)," Chief Executive Terry Leahy told Reuters in an interview.
Profit before tax and one-off items was 3.4 billion pounds in the year ended February 27, helped by the first full-year contributions from its purchase of the Homever chain in South Korea and its full ownership of Tesco Bank.
That figure was up 10.1 percent versus the previous 52 weeks and 8.7 percent on a 53-week basis.
Sales, excluding VAT, rose 7.1 percent and 5.6 percent on a 53-week basis to 56.91 billion pounds.
Analysts had forecast a profit of 3.38 billion pounds on sales of 58.4 billion in a Reuters poll of 13.
UK TOUGHER
Tesco, which makes about three-quarters of its profits in the United Kingdom, said sales at British stores open at least one year rose 2.7 percent excluding fuel and VAT sales tax in its fiscal second half, down from 3.7 percent in the first half, due mainly to a steep fall in food price inflation.
Unlike last year, it did not publish a figure for the first few weeks of its new financial year, when some analysts think underlying UK sales growth may have slowed to around zero.
CEO Leahy told Reuters underlying UK sales were still rising and Tesco was outperforming the broader grocery market, and predicted a gentle rise in inflation in the months ahead.
Tesco's performance compares well with European rivals France's Carrefour (CARR.PA) and Germany's Metro (MEOG.DE), both of which posted a drop in 2009 profits, hit by falling food prices and sluggish consumer demand in continental Europe.
British retailers have tended to fare better.
Discount clothing chain Primark powered a steep rise in first-half profit at Associated British Foods (ABF.L) while luxury fashion group Burberry (BRBY.L) has reported an improving trend in sales growth.
But many retailers fear consumer spending could slow after May 6 elections as a new government takes steps, like hiking taxes, to bring down state borrowing.
Tesco shares currently trade at a discount to both British rival J Sainsbury (SBRY.L), as well as Metro and Carrefour, as a multiple of forecast earnings, according to Reuters data.
"With headwinds calming and tailwinds possibly emerging, we see a strengthening argument for a decoupling of Tesco stock from its UK centric peers," said Shore capital analyst Clive Black, keeping a "buy" rating on the shares.
Tesco said underlying international sales were turning positive and losses in its recession-hit U.S. business had peaked, although it was still unable to say when U.S. chain Fresh & Easy might break even.
The group cut net debt to 7.9 billion pounds, ahead of an expected decline to about 8.5 billion, and lifted the full-year dividend 9.1 percent to 13.05 pence a share.
(Editing by Karen Foster)
© Thomson Reuters 2023 All rights reserved.