Tesco expected to post £3 billion profit
By Mark Potter and James Davey
LONDON (Reuters) - Tesco (TSCO.L), the world's No.3 retailer, is set to show its resilience to the economic downturn by posting profits of over 3 billion pounds ($4.5 billion) just four years after passing the 2 billion pound mark.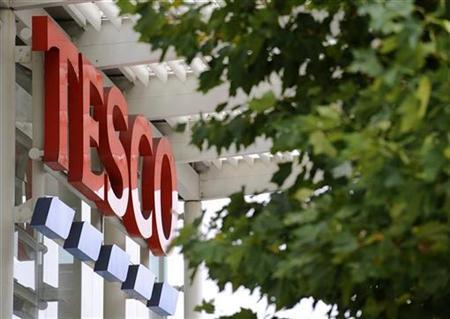 Investors, however, will be looking for reassurance from the supermarket group that strong growth can continue.
They will scrutinise profit margins to see if they have been hit by Tesco's discount brand range, launched in September to counter the threat of hard discounters like Aldi.
They also want to hear that Tesco is addressing its recent sales underperformance against major rivals Asda (WMT.N), J. Sainsbury (SBRY.L) and Morrison (MRW.L).
Tesco's medium-term target is to grow UK sales at stores open at least a year, excluding fuel, by between 3 and 4 percent. But analysts' current consensus forecast for the year ending February 2010 is for growth of about 1.7 percent.
Abroad, investors are keen for signs that the group, which employs 440,000 people in about 4,000 stores across 14 countries, is coping in some of the world's most challenged economies, such as Ireland, Hungary and Turkey.
Tesco's U.S. plans will also be under the spotlight after the firm said in November it was slowing down its expansion there, and conceded in February it had made some mistakes.
Analysts are keen to hear if it still expects its U.S. Fresh & Easy chain to break even by the end of fiscal 2009-10.
Debt will also be a focus, with some analysts forecasting it could reach 10 billion pounds. Fewer-than-expected property deals and a falling pound have inflated borrowings on top of an acquisition in South Korea and a deal to buy out Royal Bank of Scotland (RBS.L) from a financial services joint venture.
But with strong cash flows and property assets estimated at about 30 billion pounds, analysts are generally relaxed about Tesco's finances. Some expect the group to cut capital spending for 2009-10 to 3.0-3.5 billion pounds from around 4.5 billion.
GROWTH POTENTIAL
Profit before tax and one-off items will rise 7 percent to 3.04 billion pounds for the year ended February, according to the median forecast of 19 analysts polled by Reuters Estimates, with sales, excluding VAT, seen up 13 percent to 53.5 billion.
That should compare favourably with a string of trading updates and results from British retailers next week.
Also on Tuesday, luxury goods group Burberry (BRBY.L) is expected to report a drop in fourth-quarter sales at constant exchange rates, although discount chain Primark (ABF.L) is likely to say it continues to benefit from the downturn.
On Wednesday, Carphone Warehouse (CPW.L), Europe's biggest mobile phone retailer, will reveal whether unexpectedly strong trading over Christmas has continued, while Game Group (GMG.L) will give a sense of whether the computer games market -- one of the few recent hot-spots in retailing -- has started to cool.
Department stores group Debenhams (DEB.L), stationer WH Smith (SMWH.L) and sporting goods retailer Sports Direct (SPD.L) report on Thursday. All have shown some resilience in the recession, but are nonetheless bearing its scars.
Tesco reported a 2.5 percent rise in sales at UK stores open a least a year, excluding fuel, in the 7 weeks to January 10, lagging its main rivals. Analysts expect this rate of growth, or slightly higher, for the full fourth quarter.
Tesco says its sales growth has been held back by customers switching to the cheaper discount brands range and that its sales volumes are increasing, which will put it in a strong position when food price inflation starts to ease.
Analysts are divided on the success of the discount brands.
"Our core belief is that the market will not fully embrace the Tesco story again until it has stabilised its UK market share performance," Citigroup said in a recent research note, adding investors fear the stock may suffer the fate of Carrefour (CARR.PA), which has underperformed as it struggles in France.
Carrefour, the world's No.2 retailer, on Thursday reported its first quarterly fall in sales for six years.
Nomura, however, believes Tesco is doing well to hold onto the bulk of its big market shares gains of recent years in the face of resurgent rivals, and it has greater potential than UK peers via international operations and expansion into banking.
"Ultimately, would investors prefer exposure to structural as well as operational growth opportunities, or 100 percent exposure to a UK grocery market that structurally, aside from small capacity withdrawal, is not growing?" he asks.
Tesco shares have broadly matched the DJ Stoxx European Retail Index .SXRP over the past year. They trade at 11 times forecast earnings for 2009-10, below Carrefour on 12.1, Morrison on 13.8 and Sainsbury on 14.1, according to Reuters data.
(Editing by Rupert Winchester)
© Thomson Reuters 2023 All rights reserved.