Tesco CEO shows who's boss as UK head departs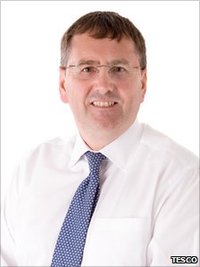 Philip Clarke
LONDON - The CEO of Tesco , the world's third-biggest retailer, is to jettison the head of its UK business a year after he was promoted to the role, raising questions over strategy in its largest market two months after a shock profit warning.
Tesco said on Thursday group CEO Philip Clarke would take over the UK CEO role in addition to his existing duties from Richard Brasher, a Tesco veteran of 26 years, who has stepped down from the PLC board with immediate effect and will leave the firm in July.
Clarke told Reuters that Brasher recognised "you can't have two captains in a team."
Brasher was appointed to head the UK business in March 2011 when Clarke succeeded long-standing group CEO Terry Leahy.
His departure follows Clarke's decision to have hands on involvement in the UK business, whose market share last month fell to levels not seen since 2005, according to industry data.
Some analysts expressed concern that Clarke may be taking on too much.
"It is not a good sign when the CEO of a huge global group like Tesco tries to micro-manage the UK business," said independent retail analyst Nick Bubb.
"It is hard to see how this will end happily. Will Phil Clarke take over running Tesco Bank when that goes off plan?"
Clarke said Brasher's exit "categorically does not signal another warning."
"There is no warning, if we felt that was necessary we'd be saying so and we don't think it's necessary."
NO ROW

Clarke also insisted he had not rowed with Brasher, who was responsible for the "Big Price Drop" campaign launched last September that did not deliver the Christmas Tesco wanted and has so far failed to stem market share losses to rivals Asda , Sainsbury and Morrisons.
"I respect the decision that he's reached and I've nothing but the highest admiration for him," he said, highlighting Brasher's contribution to the development of new store formats, the Clubcard loyalty scheme and international sourcing.
"The UK's been facing challenges that are long standing. This is a consequence of my wish to take a more active role in the day to day management and nothing else."
Clarke said the change would ensure "rapid implementation" of Tesco's plan, announced in January, to invest hundreds of millions of pounds in its UK business.
These plans were beginning to show progress, in line with Tesco's expectations, he said.
A programme to invest in existing and new stores and take on 20,000 new staff in Britain had been fleshed out by Clarke and Brasher just 10 days ago, with Brasher widely photographed and filmed shaking hands with Prime Minister David Cameron.
Brasher pulled out of an engagement to speak at the annual Retail Week conference on Thursday morning.
Clarke said in the long term it was in the best interests of the group to have a dedicated UK team with its own boss. "But right now I want a closer involvement and therefore I'm taking this decision."
Shares in Tesco were down 1 percent at 321.4 pence at 1213 GMT, valuing the business at 25.49 billion pounds ($39.98 billion).
"With the UK 70 percent of the business and underperforming, it becomes difficult to have two captains on the bridge. Therefore, the departure of Richard Brasher is a sad, but perhaps inevitable, consequence of the recent profit warning," said Panmure Gordon analyst Philip Dorgan.
Brasher's exit is the latest in a string of recent management changes at Tesco.
Last month Clarke moved Bob Robbins from his role as UK chief operating officer three weeks after it was revealed he sold stock ahead of the January profit alert.
© Thomson Reuters 2023 All rights reserved.