Talbots to cut more jobs; loss smaller than expected
BANGALORE (Reuters) - Talbots Inc (TLB.N) posted a much narrower-than-expected loss on Tuesday 9 June, a day after the women's apparel retailer decided to sell its J.Jill division to Golden Gate, and said it would cut corporate headcount across locations by about 20 percent.
"Management will now be able to focus on the core Talbot's business with the Jill overhang gone," analyst Roxanne Meyer of UBS Investment Research said in a note, adding that while Talbots has lost some of its traditional customers, it has still not managed to lure enough new ones.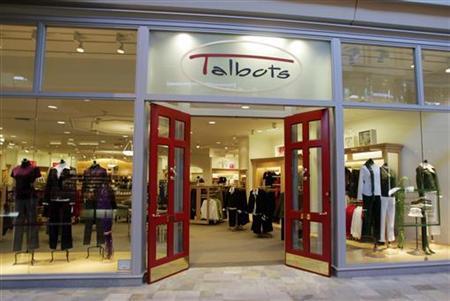 The company, which mainly caters to women above 35, also slashed its '09 capital expenditures to $27 million, sharply down from the $45 million it had spent in 2008.
In February, Talbots said it would cut 370 corporate jobs, or 17 percent of its corporate headcount.
In trying to save money, the company had also suspended its dividend and frozen its pension plans, besides cutting jobs and closing some units.
The latest job cuts, which include cancelling out open positions, will result in yearly savings of $21 million, the company said on Tuesday 9 June.
Talbots, which is majority owned by Japan's Aeon Co Ltd (8267.T), said the job cuts were part of its strategy to save $150 million annually.
LOW EXPENSES, INVENTORIES HELP
For the first quarter ended May 2, net loss from continuing operations was $18.8 million, or 35 cents a share, compared with a net profit of $18.5 million, or 35 cents a share a year ago.
But excluding items, Talbots posted a loss of 23 cents a share, while analysts on average were expecting a loss of 49 cents a share.
"The positive earnings surprise came from the SG&A line, an area that should produce continued near-term upside," Lazard Capital analyst Todd Slater said in a note.
Inventories were down 21 percent per square foot, and selling, general and administrative expenses fell 15 percent to $110.8 million, helping offset weak sales.
While such lean inventories might affect the company's ability to have enough new merchandise in stock, analyst Slater said "it is smarter to leave some revenue on the table, chase the business wherever possible, and stabilize merchandise margins."
Sales dropped to $306.2 million, from $414.8 million in the same quarter a year ago.
Talbots expects second-quarter loss from continuing operations between 50 to 58 cents a share, and said sales would still be weak -- down in the low 20 percent range compared with last year.
Analysts on average were expecting a loss of 68 cents a share, excluding items.
Talbots shares, which had risen 8 percent in early morning trade, were trading up 4 percent at $5.22 Monday 8 June on the New York Stock Exchange.
(Reporting by Nivedita Bhattacharjee in Bangalore; Editing by Ratul Ray Chaudhuri, Jarshad Kakkrakandy)
© Thomson Reuters 2023 All rights reserved.