Talbots adopts poison pill as PE buys large stake
August 3 - Talbots Inc adopted a poison pill to deter potential hostile takeovers, a day after a private equity firm reported a large stake in the troubled women's clothing retailer.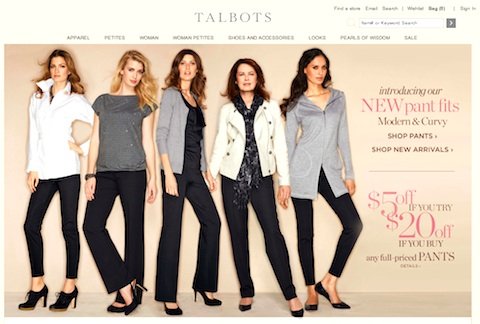 Talbots.com
On Monday, Sycamore Partners revealed a 9.9 percent stake in Talbots, and the Wall Street Journal reported the private equity firm's founder was considering buying the retailer.
Sycamore was started this year by former Golden Gate Capital managing director and retail industry veteran Stefan Kaluzny. Kaluzny, who serves on the boards of retailers Zale Corp and Eddie Bauer, had earlier worked with Talbots when Golden Gate bought the retailer's J. Jill division in 2009.
Janney Capital Markets analyst Adrienne Tennant believes the specialty retailer is in play.
"Kaluzny's prior involvement with Talbots and his experience with some of these more distressed turnarounds (such as Eddie Bauer's) make him a more likely player in this situation," Tennant said.
Tennant does not expect any specialty retailer to be interested in Talbots but said apparel makers, who wish to own a host of brands, might look at Talbots -- which caters to women aged 50 and above.
Talbots -- which built its image on its traditional pearls-and-classics fashions -- has seen its sales fall over the past five years, and has been trying to woo younger women with trendier clothes as part of its turnaround efforts.
The company's shares have more than halved this year, and some investors have called for a change in management, or even a sale, if things don't improve.
Wedbush Morgan analyst Betty Chen believes the turnaround initiative will succeed, though it might take another 6 months to a year for it to show.
The rights plan, adopted by Talbots on Tuesday, allows the company to issue shares at a discount to all other shareholders if a single investor buys 10 percent or more of the stock.
A rights plan makes it harder for a suitor to mount a hostile takeover due to the resulting share dilution.
Talbots shares were down 2 percent at $3.98 on Tuesday on the New York Stock Exchange.

(Reporting by Mihir Dalal in Bangalore; Editing by Viraj Nair, Saumyadeb Chakrabarty)
© Thomson Reuters 2023 All rights reserved.