Swatch Group first half profit beats poll, sees second half recovery
ZURICH (Reuters) - Swatch Group (UHR.VX), the world's largest watchmaker, expects demand for its timepieces to pick up in the second half of the year after first-half net profit dropped by less than expected.

Net profit fell to 301 million Swiss francs, ahead of the average estimate of 275 million francs in a Reuters poll.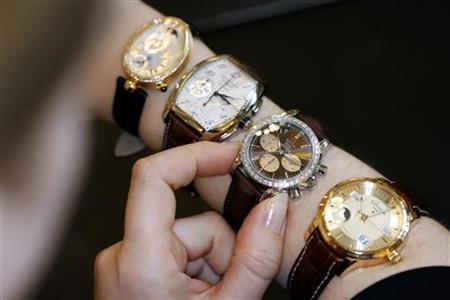 "The sales development in the last two to three months as well as current order entries show signs of recovery," the group said in a statement on Friday 14 August.
Second-half sales should be in line with the second half of 2008, with some brands seen posting a rise in sales, it said.
Sales slipped 15 percent to 2.48 billion francs, outperforming Swiss watch exports, which fell 26 percent in the first six months of the year, while its operating margin dropped to 14.7 percent.
The Swiss watch industry is facing its sharpest drop in demand in some 20 years as people curb their spending on timepieces due to worries about job losses and the shrinking value of their investment portfolios.
Luxury goods groups such as LVMH (LVMH.PA), Bulgari (BULG.MI) and Hermes (HRMS.PA) have all seen demand for their watches dwindle, contrasting with more resilient demand for leather goods, such as handbags.
Swatch group is benefiting from its mid-range brands such as Tissot and Longines, which are holding up better as consumers favor less expensive marques, while its limited exposure to the tough U.S. and Japanese markets is also helping the company.
Shares in the group, which is best known for its colorful Swatch watches and also owns higher-end brands such as Breguet and Blancpain and Omega, have risen strongly in recent weeks as investors turn optimistic about demand picking up.
(Reporting by Katie Reid)
© Thomson Reuters 2023 All rights reserved.