Swatch chairman upbeat despite downturn
ZURICH, Nov 10 (Reuters) - Swatch Group , the world's largest watchmaker, is still optimistic for growth in all its divisions in 2009, despite the economic slowdown, its chairman Nicholas Hayek was quoted as saying on Monday.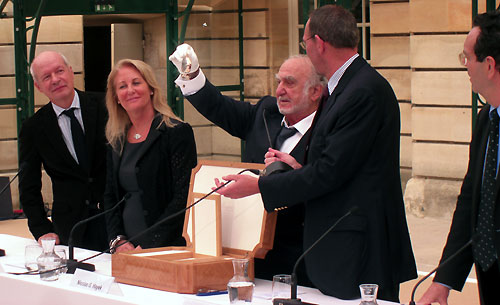 Nicolas G. Hayek present the new Marie-Antoinette's watch in the Petit Trianon of Versailles
Photo : Matthieu Guinebault
"In the current situation, our forecast is still for growth that will continue in all segments. Not only in luxury, but also in the mid and lower tiers," Hayek told L'agefi daily.
Hayek said he hoped for gains in the United States despite the gloomy consumer climate there, which he said should be helped by the election of Barak Obama as president. He was also upbeat for the watch industry as a whole.
"We have seen an amazingly euphoric period in the last few years. This trend won't return overnight. The analysis of Swatch forecasts more a relative slowdown of growth, but still growth," he said.
The group, which is best known for its colourful plastic Swatch watches, also owns higher-end brands such as Breguet and Blancpain and Omega. (Reporting by Emma Thomasson, editing by Will Waterman)
© Thomson Reuters 2023 All rights reserved.