Swatch chair down 3-4 bln Swiss francs in crisis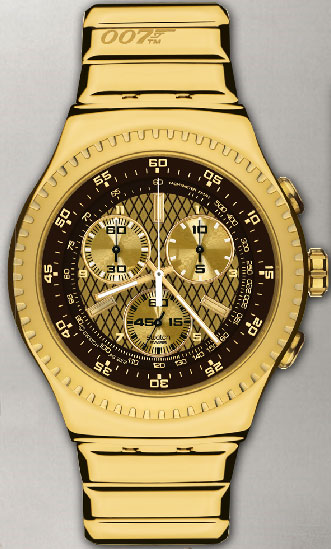 Swatch 007 Villain Collection
GENEVA, Oct 10 (Reuters) - Nicolas Hayek, chairman of Swiss watchmaker Swatch Group , says he has personally lost about 3-4 billion Swiss francs on paper as a result of the financial crisis and is "furious" but not worried.
"I am unhappy and furious and feel like putting a lot of people in prison, but I'm not worried," Hayek said in an interview on Swiss television late on Thursday.
"The value of my shares has fallen by 3 or 4 billion (francs) ($2.66-$3.55 billion). But I'm not crying, on the contrary, because the value of the company still remains very high, very strong," he said.
Swatch is the world's largest watchmaker and served as official timekeeper at the Beijing Olympics.
Hayek said that sales of the group's mid-range watches including Breguet, Omega and Blancpain were "much higher" at the end of September than for the same nine-month period a year ago. He gave no figures.
He blamed speculative bankers with a mentality of "making money without doing anything" for his paper losses.
"They have no sense of morality or professional conscience. They took your money and mine saying 'trust us' and went out to speculate, knowing that it was dangerous, just to earn millions in bonuses at the end of the year," he said.
The outspoken Hayek is generally credited with rescuing the Swiss watch industry from collapse in the 1980s after low-cost Japanese quartz timepieces obliterated sales.
Lebanese-born, he is among 7,642 multimillionaires living in Switzerland, the Alpine country of 7.5 million people, 1,000 more than a year ago, according to official figures issued on Thursday.
Ingvar Kamprad, founder of the Ikea chain, is Switzerland's wealthiest resident. The Swede also figured in the latest Forbes magazine list as the world's seventh-richest person.
Wealthy foreigners taking up residence in Switzerland often pay a specially negotiated flat tax rate that excludes foreign wealth and income.
The Swiss cantons of Nidwald, Zoug and Schwyz are home to the most multimillionaires, according to the list, which covers those with more than 10 million Swiss francs. (Reporting by Stephanie Nebehay; editing by Simon Jessop)
© Thomson Reuters 2023 All rights reserved.