SuperGroup sales soar, to meet profit hopes
By James Davey
LONDON, May 11 (Reuters) - SuperGroup (SGP.L), the British company behind the Superdry fashion brand worn by celebrities such as David Beckham, posted stellar trading, stoked by robust demand for its casualwear despite a tough economic backdrop.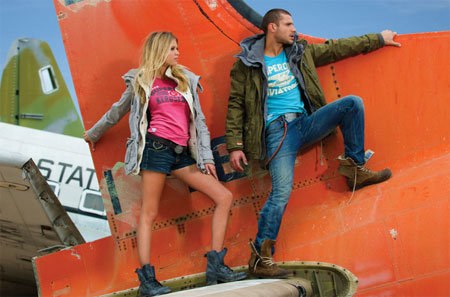 Photo: www.superdrystore.com
SuperGroup, which floated on the London Stock Exchange in March, said on Tuesday 11 May sales soared 83 percent to 139 million pounds ($215 million) in the year to May 2.
SuperGroup, which trades from 43 standalone stores in Britain, 56 concessions in House of Fraser department stores and has a wholesale business in 34 countries, said it expected to make a pretax profit of not less than 25.7 million pounds, as per its IPO prospectus.
"We are the least affected (by the economic climate). Our customers have to look good on a Friday night," chief executive Julian Dunkerton told Reuters.
SuperGroup shares, which listed at 500 pence were down 0.9 percent at 555 pence at 0853 GMT, valuing the business at 419 million pounds.
SuperGroup "should achieve further significant earnings growth over the next two years from a continuation of the store roll out plan in the UK, rapid development of the internet business and expansion overseas", said Seymour Pierce analyst Freddie George.
Separately on Tuesday 11 May an industry survey said British retail sales fell at their sharpest annual pace in more than a year in April.
Dunkerton, who along with SuperGroup's other management shared 105 million pounds of the 120 million IPO proceeds, said he did not fear a big rise in youth unemployment.
"I believe the economy will grow slowly and there may be some tax pain for top earners. But I really can't see anything that's fundamentally going to affect our consumer," he said.
"I'd like a government to form... stability is good for the markets. Apart from that it is literally all good in all directions."
SuperGroup's retail like-for-like sales increased 17 percent over the year, while wholesale sales doubled.
The company has a 20 stores a year roll-out programme and sees scope for 150 Superdry and Cult stores in Britain and Ireland. It is also targeting womenswear and the internet to drive growth.
SuperGroup's IPO was the first significant one to succeed in the British retail sector since Mike Ashley's Sports Direct (SPD.L) floated in 2007 and came just a month after budget fashion retailer New Look postponed its offer, blaming turbulent financial markets. (Editing by Rhys Jones, Mike Nesbit) ($1=0.6465 pounds)
© Thomson Reuters 2023 All rights reserved.