Stella McCartney adds a more accessible line to her lingerie collection
Stella McCartney wants more leeway on the playing field of the upscale lingerie market. After her launch in 2008 of a label bearing her own name, she now adds a new complimentary line to be marketed simply as "Stella." Starting in fall-winter 2012/2013, this new range will be positioned as a niche line of more everyday, comfortable, but also more affordable lingerie.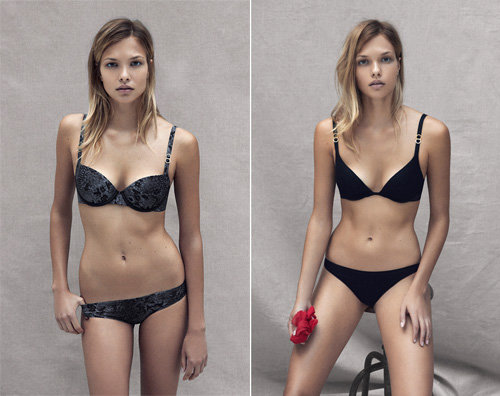 First collection of the Stella line by Stella McCartney
The Stella line comprises five bras, bottoms, bodysuits and a few pieces of nightwear, designed in three styles and offering far more accessible prices than the designer's premiere lingerie line. Prices for briefs start at 27 euros and bras run between 50 to 120 euros. The line's look is based on a more minimalist approach, seeking primarily to achieve daily comfort close to a "bare skin feeling," but still embellished with the three gold rings, symbols of Stella McCartney, whose label is part of the PPR portfolio.
This new line will be debuted in the brand's sixteen brand-name stores as well as in international department stores that include Harvey Nichols, Harrods and Selfridges in London, Bergdorf Goodman, Nordstrom and Barneys in the United States, Le Bon Marché in France, but also on the online retail site Net-à-Porter.
Copyright © 2023 FashionNetwork.com All rights reserved.