Schuh to arrive in France via online store
Schuh is taking its first proper step into the international market. The UK footwear retailer has just announced its plans to launch a French version of its e-commerce website later this year. Customers from France will thus be able to shop online for the retailer's huge collection of shoe brands, and also pay for products in euros. Currently under development, the website is due to launch towards the end of this year's first quarter. Offering shoes for men, women and children, Schuh currently has a retail network of 64 stores and 14 concessions across Great Britain and Ireland. Its shopping website is among the biggest players in the online footwear market.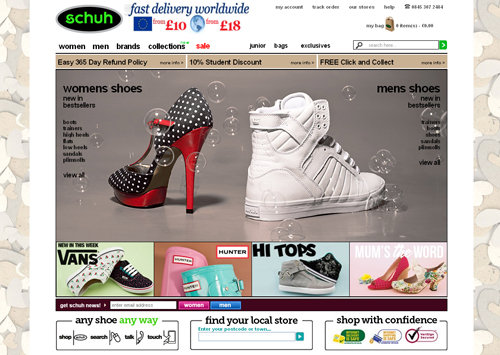 Screenshot of Schuh's website
Acquired in 2011 by American group Genesco, Schuh now feels ready to expand into other markets, beginning by France. The retailer already does international delivery, but only through its UK website where payments are made in pounds.
Schuh offers footwear by Camper, Adidas, Fred Perry, Sorel, Lacoste, Clarks and many other brands. The shoe chain was founded in 1981 with its first boutique opening in Edinburgh, Scotland.
Copyright © 2023 FashionNetwork.com All rights reserved.