Sarenza.com hits UK with kids specialised shoes
Leading French online shoe shop, Sarenza.com will distribute children's shoe brands onto the UK market. Having recognised the need to sell brands that process specialised kids shoewear, childrens' feet and parents' piece of mind are put at ease.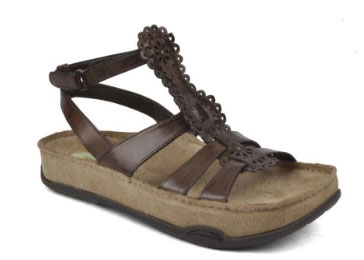 Sarenza.com Gladiola Earth Sandal
Following the launch of the UK website in October 2009, the company is now adding a variety of kids shoes to their collection for the Brits.
Adhering to school regulations, providing comfort and support as well as fitting in on the playground are the main issues for parents all over, awaiting the new academic year and having to make decisions over school uniform for September.
Things such as sole and upper ankle materials must be flexible so as not to constrain feet development and must be resistant for when kids begin to get more active.
Sarenza is growing and rapidly: 2009 saw 40 million Euros in turnover, double that of 2008 and ten times greater than in 2006. Their name is beginning to buzz around the British fashion scene thanks to their continental collections, blogs with fashion experts and competitions.
Yet there is still an element of exclusivity to their French, Spanish and Italian designs since Sarenza is currently the only UK supplier for most brands.
Pom d'Api, Start Rite, Pepe, Primigi and Natik are a few examples of the unique kid's shoes available from Sarenza.
By Rosie Hart
Copyright © 2023 FashionNetwork.com All rights reserved.