Samsonite falls 11 pct in HK debut; bodes ill for Prada
June 16 - Samsonite International SA , the world's biggest luggage maker, dropped 11 percent in its Hong Kong trading debut on Thursday, underscoring tepid investor appetite for initial public offerings as global markets struggle.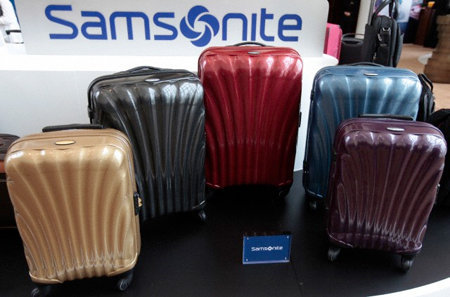 Samsonite luggage is displayed during the company's presentation in Hong Kong (Photo: Corbis)
Samsonite's slump is the latest in a string of weak Asian IPO performances from companies including MGM China and commodities trader Glencore , and bodes ill for the impending share sale of Italian fashion house Prada SpA .
"Of course you have to attribute that to the weak sentiment in the market and in the meantime people won't be too interested in IPOs," said Alex Wong, a director with Ample Finance Group.
Prada has filed to raise up to $2.6 billion and is set to price its deal on Friday, while China Everbright Bank plans a $6 billion Hong Kong IPO for early in July.
Samsonite shares fell to HK$13.14 in mid morning, but traded as low as HK$12.96 after pricing at HK$14.50 a share, the bottom of a revised indicative range.
The weak debut comes as the benchmark Hang Seng Index has declined in 10 of the last 11 sessions, down nearly 7 percent and weighing on investor demand for new stock sales.
Named after Samson, the biblical figure with super strength, the company and shareholders including private equity firm CVC Capital Partners Ltd and Royal Bank of Scotland Group Plc , sold 671.2 million shares to raise HK$9.73 billion.
The 101-year old brand is joining companies such as L'Occitane and Coach that have targeted Hong Kong to raise their profile among Asian consumers or tap deep-pocketed investors to fund expansion in the region.
China's rapid growth has created a new class of consumers in major cities as well as in the countryside that have snapped up everything from luxury shoes to handbags and jewellery.
Hong Kong IPOs generally attract a lot of interest from retail investors, but they didn't find Samsonite's offer particularly hot.
The IPO received bids worth just 1.23 times the shares on offer for retail investors, compared with more than 2,000 times oversubscription for the IPO of handbag retailer Milan Station Holdings Ltd , the most popular offering in 2011.
Samsonite's international offering, which accounted for 90 percent of the total, was "moderately oversubscribed", the company said in a filing on Wednesday, without giving details.
Concern about higher interest rates in China, debt troubles in Greece and weak growth in the United States have weighed on several IPOs in recent weeks.
Companies including U.S. lender Ally Financial Inc, Australian mining startup Resourcehouse Ltd and Chinese auto parts company Nanning Baling Technology Co Ltd have shelved IPOs due to waning investor appetite.
Samsonite had initially set an indicative range for the IPO of HK$13.50 to HK$17.50 per share, but narrowed it to HK$14.50 to HK$15.50 on June 9.
Goldman Sachs Group Inc , HSBC Holdings Plc and Morgan Stanley managed the offering, with UBS AG and RBS acting as joint bookrunners.
Underwriters stand to earn as much as $40.6 million in fees from the deal, equivalent to 3.25 percent of the IPO.
By Elzio Barreto
(Editing by Chris Lewis and Lincoln Feast)
© Thomson Reuters 2023 All rights reserved.