Saks loss narrows, says turmoil warrants caution
August 16 - Luxury department store operator Saks Inc reported a narrower-than-expected quarterly loss and forecast same-store sales growth for the rest of the year, but said it is cautious about fall.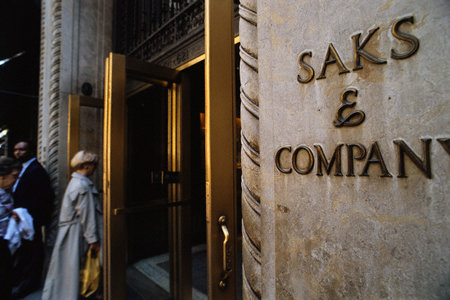 Woman entering Saks Fifth Avenue flagship in Manhattan, NY
Shares fell 4.1 percent in premarket trading. Stock market volatility has made the company more careful about expenses and how much inventory to carry, Saks Chief Executive Steve Sadove said on Tuesday.
"We are approaching the fall season a bit more cautiously," Sadove said. At Saks' annual meeting in June, Sadove said shoppers' willingness to spend at Saks is very much tied to how they feel about their net worth and the stock market.
Last week, U.S. stock markets fluctuated by as much as 5 percent on some days.
Saks forecast that sales at stores open at least a year would rise by a mid-to-high single-digit percentage in the second half of the fiscal year, which includes the holiday season when Saks gets 30 percent of its annual sales.
During the 2008-09 financial crisis, Saks had to slash prices after amassing too much inventory, leading to losses and according to many industry analysts, hurting its prestige.
Saks said inventory levels on a comparable basis would be up by a mid-single percentage, while same-store sales are expected to rise by a mid-to-high single-digit percentage, precluding any build up in inventory.
Saks' gross margin, which measures the profitability of the items it sold, rose 0.7 percentage points to 38 percent, largely because it was able to sell more items at their full prices. Saks expects its gross margin to improve between 0.4 and 0.7 percentage points in the second half of the year.
Saks reported a second-quarter net loss of $8.4 million, or 5 cents per share, compared with a loss of $32.2 million, or 21 cents per share, a year earlier.
Excluding expenses such as a pension charge, Saks lost 5 cents per share, compared to the 9-cent loss expected by Wall Street analysts, according to Thomson Reuters I/B/E/S.
Sales rose 13 percent to $670 million during the three-month period ended July 30. Same-store sales rose 15.5 percent, reflecting a rebound in U.S. luxury sales also enjoyed by Nordstrom Inc and Neiman Marcus Group.
Saks is not the only upscale chain to forecast strong business in the fall and holiday season. Last week, Polo Ralph Lauren, Nordstrom and Macy's Inc, which owns the Bloomingdale's chain, raised their sales forecasts.
Saks shares were down 37 cents in before the market opened.
(Editing by Gerald E. McCormick and Robert MacMillan)
© Thomson Reuters 2022 All rights reserved.