Roberto Cavalli creates collection for Target Australia
After the success of the collection concocted for the Swedish chain H & M in 2007, Roberto Cavalli does it again. The Italian designer hailing from Tuscany was picked by Target Australia (no connection to the U.S. discounter Target Corporation despite a similar logo) to participate in its "Designers for Target." The project is a co-branding concept for fashion labels that was first launched in 2007 with Stella McCartney, followed by American designer Zac Posen and Australian designers such as Josh Goot.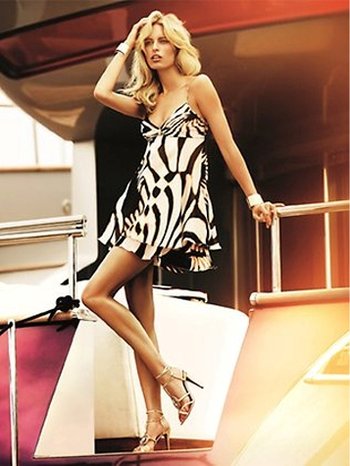 A Roberto Cavalli design for Target Australia
The collaboration with the Italian fashion house will produce a women's collection for the down-under summer season – some 42 items that includes casual daywear, glamorous evening gowns, shoes and swimwear. Designed exclusively for the Australian brand, the collection picks up on the designer's iconic animal prints, the Australian group announced on its website. The items are priced to be affordable, between 49 and 129 dollars (36 and 104 euros), available in Target Australia's 136 national stores and on its e-commerce site shop.target.com.au from October 31 until sold out, according to the company.
"When I set out to design this collection I had a wonderful party in mind with all women dressed glamorously and sensually. Of course there will be lots of prints as they are a part of my DNA," said Roberto Cavalli.
Czech supermodel Karolina Kurkova was chosen to be the face of the collection. The ad campaign was photographed by Giampaolo Sgura on Roberto Cavalli's yacht.
Copyright © 2023 FashionNetwork.com All rights reserved.