Richemont's IWC outpacing watch market
ZURICH, Aug 26 (Reuters) - Swiss watchmaker IWC, part of Swiss luxury goods group Richemont (CFR.VX), has outperformed July's 26 percent drop in Swiss watch exports on robust demand in Asia, the group's head was quoted as saying on Wednesday 26 August.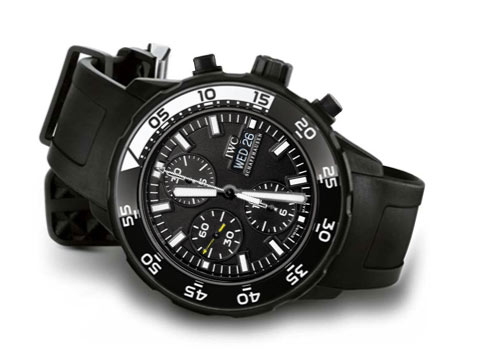 IWC Aquatimer collection 2009 - Photo: www.iwc.com
"China and the most important markets Hong Kong and Macau are proving to be robust for us and are developing better than we had feared a few months ago," IWC Chief Executive Georges Kern was quoted as saying in an interview with Swiss newspaper HandelsZeitung.
Business was going "incredibly well" in the UK and appetite for its timepieces was relatively strong in Germany and France, but there had been a significant drop in Spain, Kern said.
Switzerland's watch industry is experiencing its strongest drop in demand in around twenty years as consumers have cut back on treating themselves to luxury goods, but there are some signs that demand is starting to pick up again.
"Retailers ran down stock levels in the first half of the year. Now we are hoping for an improvement. We remain cautious and don't see any reason for euphoria. But the first signs of at least a stabilisation are there," Kern said.
"We hope to emerge from the crisis only slightly bruised," he said.
IWC, which sits alongside brands like Vacheron Constantin and Cartier at Richemont, is investing in China and India.
"By 2020, there will be 350 million people in China who are in the position to buy a luxury watch," Kern said.
Richemont, controlled by South Africa's Rupert family, is the world's third-largest luxury goods group behind LVMH (LVMH.PA) and Hermes (HRMS.PA).
The group is searching for a new chief executive after Norbert Platt said he would step down at the end of this year.
Kern said he did not want to comment on rumours that he could succeed Platt, saying only that he was happy at IWC.
(Reporting by Katie Reid; Editing by Erica Billingham)
© Thomson Reuters 2022 All rights reserved.