Puma gives subdued outlook for World Cup year
HERZOGENAURACH, Germany, Feb 17 (Reuters) - German sporting goods maker Puma (PUMG.DE) gave a subdued outlook for the soccer World Cup year of 2010, saying it expected the overall environment to remain tough, after posting a weaker-than-expected finish to 2009.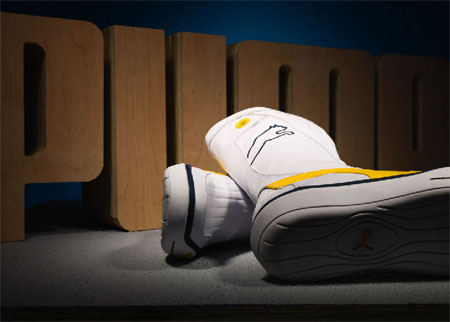 Puma
"In light of the ongoing restrictive consumer environment and the overall global economic volatility, continued restrained consumer behaviour is to be expected, which can affect sales in 2010," said Chief Executive Jochen Zeitz.
Puma, which ranks third behind U.S. behemoth Nike (NKE.N) and Adidas (ADSG.DE), expects this year's sales to at least match last year's level, but aims for a clear improvement in net earnings in the absence of earlier restructuring costs.
Puma's fourth-quarter earnings before interest and tax (EBIT) rose to 27.3 million euros ($37.26 million) from 12.2 million euros previously, missing the average estimate in a Reuters poll of analysts. Sales fell 12.8 percent to 489.5 million euros, below estimates.
Retailers across the globe have been hit hard by restrained consumer spending as the global recession cut into household budgets, and raised concern about job prospects. Puma experienced the worst economic downturn in its roughly 60-year history.
Its 2009 net earnings almost halved and missed analysts' expectations. But the start to 2010 had been more successful, Zeitz said, and pointed to the African Cup of Nations soccer tournament earlier this year, which Puma-sponsored Egypt won.
CEO Zeitz said that if the economy and consumer sentiment continue to improve, a gain in 2011 sales and earnings would be possible.
On Tuesday 16 February, data showed that German investor morale fell less than expected in February, suggesting Europe's largest economy may be more resilient than feared.
Shares in Puma turned negative after the news and were down 0.7 percent at 209.15 euros by 1024 GMT, underperforming a 1.4 percent gain in Germany's mid-cap index.
"It is typical for the Puma management to give a cautious guidance in such an early stage of the year," said Herbert Sturm DZ Bank analyst.
Traders also said a lower dividend proposal for 2009 of 1.80 euros per share compared to 2.75 euros per share for 2008 disappointed investors.
AFRICA 2010 IMPORTANT
"We will turn the Football World Cup in South Africa into a home game," Zeitz said, who keeps a holiday house in Kenya and speaks Swahili.
Puma equips seven teams at June's soccer spectacular -- Italy, Switzerland and Cameroon among them -- fewer than at the last tournament four years ago in Germany.
Cross-town rival Adidas (ADSG.DE) kits out 12 teams, more than before, including Germany, South Africa and Argentina.
Both companies have said they aim for record sales with soccer-related products this year.
Sales of these products account for a double-digit percentage of Puma's overall annual sales. The global market in this category is dominated by Adidas, with a market share of 34 percent, followed by Nike.
So far ticket sales are lagging demand in Germany four years ago, FIFA said in January, pointing out that this was understandable given the distance fans from Europe, home to many of the teams, have to travel.
Marketing costs, which are expected to go up in the run up to the tournament, will be offset by Puma's cost cutting programme.
Puma's parent company, French retailer PPR (PRTP.PA), is due to report on Thursday 18 February. Adidas will report on March 3. (Reporting by Eva Kuehnen; Editing by Rupert Winchester)
© Thomson Reuters 2023 All rights reserved.