Primark stars to offset lower AB Foods H1 profits
* AB Foods H1 operating profits to be slightly lower
* Still sees flat year to Sept earnings
* Primark H1 like-for-like sales up 5 percent
(Adds CFO interview, analyst, shares)
By David Jones
LONDON, Feb 23 (Reuters) - British discount fashion retailer Primark reported strong sales growth on Monday boosting the shares of its owner Associated British Foods Plc (ABF.L) and helping to offset a warning of slightly lower group profits.
Primark, which accounts for nearly one-third of AB Foods' group profit and has 187 stores in Britain, Ireland, Spain and the Netherlands, said its like-for-like sales are set to rise 5 percent in its half-year to the end of February.
This followed a 4 percent rise in its first-quarter to Jan. 3, while the group was upbeat as it planned a further seven new stores openings in its second half to September 2009 with its first stores set to open in Germany and Portugal.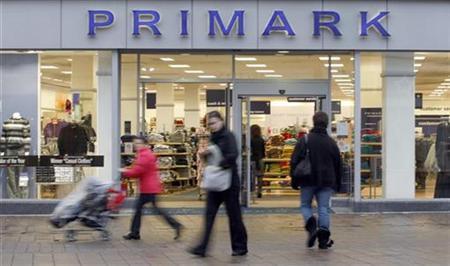 "What we are seeing is an acceleration of a trend on the high street, away from the middle market and towards value clothing," said AB Foods Finance Director John Bason in a interview after a group trading statement.
He said half-year group profit will be down slightly due to volatile prices in its U.S. vegetable oil business and trading down to cheaper food products, but stuck by his earlier forecast for largely flat annual earnings for the year to Sept. 2009.
Shares in AB Foods, which markets Silver Spoon sugar, Twining tea and Ovaltine drinks, were up 2 percent at 658 pence in a UK stock market ahead 1.5 percent by 0845 GMT.
"ABF is not immune to the economic climate, but is certainly resilient and its strong balance means it is well placed to take advantage of opportunities that may arise," said analyst Graham Jones at house broker Panmure Gordon.
Bason said he had been encouraged by the opening of its first Netherlands store in Rotterdam before Christmas which had queues outside on opening day despite little promotion, and he saw good prospects its new stores in Lisbon and Bremen.
"We are not immune to the downturn, but the downturn is having an effect on the mix, with the market moving towards the value end," Bason added.
He added half-year profits from its sugar business and food ingredients would be ahead, but its grocery business had suffered as corn oil prices had fallen sharply in the U.S. with its Mazola business hedged into buying at higher prices.
This should reverse in the second half and he stuck by his previous forecast for flat net earnings for the year to September 2009 as growth in operating profit would be offset by investments made in sugar and at Primark.
The London-based AB Foods, 55 percent owned by the family of Chief Executive George Weston, will report its full results for the half-year to Feb 28 on April 21.
(Reporting by David Jones; Editing by John Stonestreet and Sharon Lindores)
© Thomson Reuters 2023 All rights reserved.