Prêt-à-Porter Paris strengthens partnerships with European designers
In an attempt to move upmarket, Prêt-à-Porter Paris is strengthening its partnerships abroad with the support of the French Federation of Women's Ready-to-Wear. The mission has 2 main goals: to welcome new foreign designers in order to improve the smaller trade shows, especially Atmosphère's, and to give more importance and credibility to Parisian events such as Paris Fashion Days and Paris Fashion Showroom.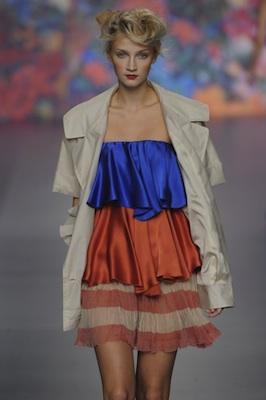 Kina Fernandez catwalk in Madrid (photo by Pixel Formula)
Jean-Pierre Mocho, the Federation's president, has thus formed a partnership with ACME, the Spanish Fashion Designers Association that organises the fashion week in Madrid. Those will now have a bigger presence at Pap Paris events, but also at 'The Train' in New York and 'Living Room' in Tokyo. The goal is to showcase about fifteen Spanish designers at the next Atmosphère's, which is almost twice the number that they have today. "This way we will be offering Spanish designers the international recognition that they desire, but which must go through Paris first", explains Muriel Piaser, Pap Paris tradeshows' manager. As for American designers, a formula needs to be developed that will help their presence at The Train and Paris.
As a side note, Prêt à Porter Paris recently published an increase in visitors from its last edition (the exact data in numbers is not divulged by the organisers). Exhibitors at the trade show were 60.5% French and 39.5% foreign. According to the organisers, Italian exhibitor participance increased by 11%, the Dutch by 10%, Spaniards by 7%, German and English both by 5%, and Russia by 3%. Brazilian attendance increased significantly by 15%.
Copyright © 2023 FashionNetwork.com All rights reserved.