Premium denim still hot with US consumers, investors
By Alexandria Sage
LAS VEGAS (Reuters) - The crowds pressing to enter the booths at a trade show here weren't in line for the buffet or to catch the latest show in town. They were apparel buyers, anxious to place orders for jeans.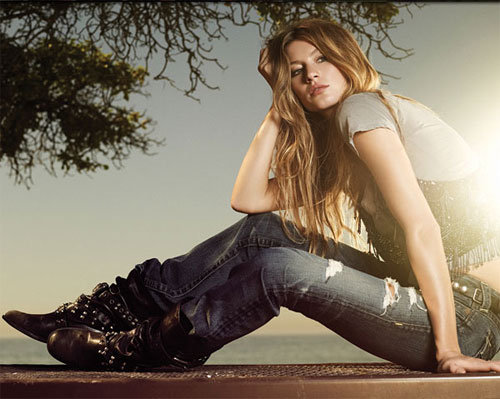 True Religion jeans - Photo: www.truereligionbrandjeans.com
Not just any old jeans: premium denim, which uses costlier fabric and more sophisticated fits and finishes. The category remains strong even as the broader apparel market licks its wounds from a disastrous selling year.
At the PROJECT show in Las Vegas, where U.S. buyers connect with apparel brands, all the focus was on high-end denim, where prices routinely hit $200 or more.
"Walking the show, denim as a category was the busiest category. And True Religion was by far the busiest," said Needham & Co analyst Christine Chen. The company is known for a horseshoe design stitched onto its back pockets.
At rival Citizens of Humanity, orders logged on the first day of the show were double those of a year ago, said Chief Operating Officer Gary Freedman.
The premium denim market held up over the holiday quarter and first part of this year, when other apparel categories saw plummeting sales from the sharp pullback in consumer spending.
That may be because premium jeans can be worn day or night and for special occasions, and cost the same as a dress.
The $1.32 billion market grew 5 percent in the 12 months ended June, according to research firm NPD Group. Sales in the overall apparel industry slid 5 percent in the same timeframe.
The category's strength has spurred many other brands not known for denim, such as Cache Inc and AnnTaylor Stores Inc, to add jeans to their mix, albeit at lower prices.
And it still captures the interest of investors, attracted by margins that can rise to as much as 60 percent.
True Religion stock has risen 77 percent since January, compared to the 11 percent rise at the S&P 500 Index.
At the tony San Francisco boutique Sarah Shaw, young women in their 20s as well as mothers wanting to show off their figures shell out $184 for a pair of Paige premium denim.
The price tag doesn't faze them, said Alexandra Faay, manager and assistant buyer -- what's important is fit.
"It's all about the quality. You can go to Gap and you can go to Old Navy and get your cheap fix on denim but these ladies are spending $200 because they know they'll last," she said.
Gap Inc is currently promoting what it calls its new "premium" jeans, which cost about $54.
Investors are also considering longevity. Paul Zaffaroni, vice president of investment banking at Roth Capital Partners, said there is still keen investor interest in premium denim brands. A few new deals will be announced by year's end, he said.
"When private equity looks at premium denim brands, they're looking for ones they can develop into full-blown lifestyle brands," he said, referring to those with a strong image that are capable of selling a range of categories beyond just jeans.
Premium denim already has fat gross margins, around 50 to 60 percent of sales, and adding new categories that can be licensed is an attractive and profitable strategy.
Because of the relatively low sales volume of premium jeans, those margins are rarely undercut, said Brean Murray, Carret analyst Eric Beder.
When the premium denim boom first hit about five years ago, an excess of brands flooded the market. But those that couldn't deliver to retailers on time, or those with ill-fitting or ho-hum product, have fallen by the wayside, leaving major names such as Rock & Republic, J Brand and William Rast, to cement their hold on the market.
Rather than cut prices in the downturn, premium denim players are becoming more nimble. Stores want quicker turnover of product and smaller orders, so Citizens of Humanity now provides a wider range of styles that can be supplied quickly, Freedman said.
Lowering prices is neither necessary, nor smart, he said.
"That's not who we are," Freedman said, adding that any move from a $175 to a $125 jean might stimulate sales "but it's not a good long-term policy."
Back at the boutique, manager Faay said the best-fitting jeans are worth the price: "The women who buy premium are still going to. They're not going to stop."
(Reporting by Alexandria Sage; Editing by Phil Berlowitz)
© Thomson Reuters 2023 All rights reserved.