PPR 2008 profit drops, to cut costs
* Trading slightly improved in January
* 2008 operating profit 1.36 billion euros ($1.71 billion)
* Cuts dividend 4 percent to 3.3 euros
* Shares rise as much as 5.6 percent (Adds detail, share price, management, analyst comment)
By Astrid Wendlandt
PARIS, Feb 19 (Reuters) - French retail and luxury group PPR (PRTP.PA) did not give an outlook for 2009 but said it was to cut costs to boost competitiveness in the downturn, when posting a drop in fourth-quarter sales and underlying full-year profit.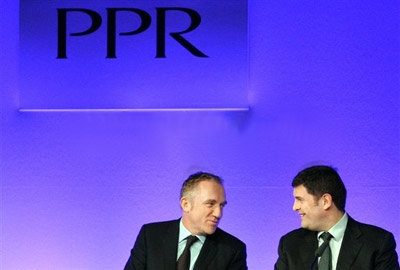 Francois-Henri Pinault and Jean-François Palus - Photo : Patrick Kovarik/AFP
Trading improved slightly in January in luxury and other businesses but the trend could be due to calendar effects, finance director Jean-Francois Palus told reporters on Thursday.
The owner of the Gucci luxury brand said 2008 operating profit fell 20 percent to 1.36 billion euros ($1.7 billion) and it was cutting its dividend 4 percent to 3.3 euros to help preserve cash. The move was expected by some analysts.
Late on Wednesday, PPR said it planned to axe 800 jobs by 2010 at its Conforama furniture chain, which has been struggling to fight competition from Ikea, as well as another 400 jobs, or 3.4 percent of staff, at its Fnac electronics and book chain.
"In 2009, the group will intensify its action plans so as to build on its competitive advantages and strengthen its business lines," chairman and chief executive Francois-Henri Pinault said in a statement.
PPR shares were 1.3 percent higher at 41.43 euros by 0905 GMT, versus a flat French CAC 40 index .FCHI and a 0.7 percent gain on the Dow Jones retail index .SXRP.
"Fourth-quarter revenue trends (are) not as bad as feared, inventories (are) under control," Citi analysts said in a note, adding full-year recurring operating profit was slightly better than expected.
PPR overall sales fell 1.5 percent in the fourth quarter on a like-for-like basis and remained flat on a reported basis.
The drop was led by retail arms Fnac, Redcats and Conforama, which saw declines of 1.3 percent, 7.8 percent and 8.7 percent respectively on a like-for-like basis.
PPR said full-year recurring operating profit rose 6.4 percent to 1.72 billion euros.
Palus said PPR's Sergio Rossi unit planned to close five shops in the United States to focus on wholesale retailing.
Gucci Group quarterly sales remained flat on a comparable basis but rose 4.5 percent on a reported basis, PPR said, adding recurring operating profit at the unit fell 3.4 percent to 625 million euros. YSL broke even, meanwhile.
PPR said fashion and leather goods sales rose 10 percent last year, gaining 3.3 percent in the fourth quarter. At Gucci, they grew 7 percent in 2008 and 4 percent in the three-month period.
Emerging markets contributed a 28 percent rise in luxury sales last year, compared to a 1 percent gain in Europe. (Editing by James Regan and Dan Lalor) ($1 = 0.7938 euro)
© Thomson Reuters 2023 All rights reserved.