Pitti Immagine launches its virtual fair : e-Pitti
Pitti Immagine will begin in January at the start of Pitti Uomo's next edition (Jan 11-13, 2011). The huge Italian fashion tradeshow, particularly for men's clothing, has just announced the creation of FieraDigitale, meaning digital fair. The objective is to allow exhibitors to keep trading after the actual event is over for an additional 30 days.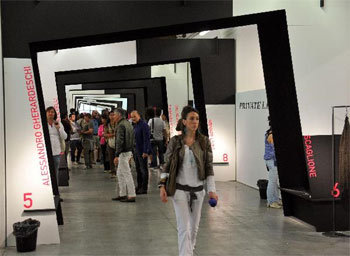 Pitti Uomo's 78th edition.
"The virtual fair's main goal", says Francesco Bottigliero, CEO of FieraDigitale, "is to expand, prolong and render the experience of the physical fair by multiplying opportunities for contacts, quickly reaching new markets and new clients and facilitating research and selection work for the buyers".
The digital versions of Pitti Uomo and Pitti Bimbo (fair for kids fashion) will open one week after the conclusion of the physical events and will remain open for about one month. e-Pitti will enable exhibitors to open their own B2B showroom that will be "open for business" online for the whole season enabling the vendors to negotiate and book orders from buyers certified by Pitti Immagine.
"Starting from the virtual fairs, this will be yet another opportunity to bring about major changes in the industry's way of doing business", says Raffaello Napoleone, CEO of Pitti Immagine and Chairman of FieraDigitale.
The beta edition of e-Pitti will take off in January with Pitti Uomo 79. Initially it will involve a limited number of companies such as: Alden Usa, Bellwood, Brooks Brothers, Bogner Fire+Ice, Borsalino, Christopher Fischer, Denham, Drake's, Eleventy, Fred Perry, G. Inglese 16, Gant, Geospirit, Gilded Age, Gitman Bros. Est 1978, Guglielminotti, Il Bisonte, Italia Independent, Kickers, Lyle & Scott, Reebok and so on and so forth...
Copyright © 2023 FashionNetwork.com All rights reserved.