Pitti Bimbo: fewer buyers, but top quality
"There have been fewer visitors, but it's the best Pitti Bimbo in the past five years. The buyers were much more concrete. As well as Germans, Japanese, Koreans, Swedish, Belgians and French, we also saw some Greek buyers!" Adele Gandola, distributor for Indian label Péro, set the tone. With more than 10,000 visitors, of which 6,300 were buyers, the 75th edition of Pitti Bimbo – the leading trade fair for kidswear – registered a drop compared to last year (11,000 visitors, 7,000 of whom were buyers). The number of buyers from abroad increased by 3%, whilst the number of Italians saw a sharp drop of 15%. The majority of brands, however, underlined the quality of this edition, which was held in Florence between 28th and 30th June.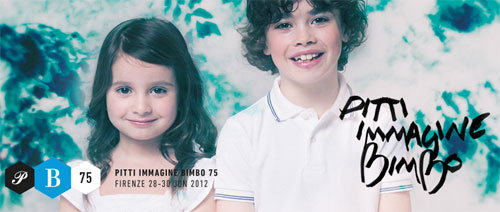 Photo: pittimmagine.com
"It's a bit of an unusual season, because of the sombre atmosphere and the crisis. We were expecting the worst, but it didn't arrive. This Pitti has been rather concrete", said Arnaud Bayeux, brand director of French group Rautureau Apple Shoes. Exhibiting at Pitti its Pom d'Api line of children's shoes, Bayeux remarked on "a gradual erosion of the show over the past few years, thanks to the drop in the Italian market". He also pointed out that client behaviour has changed. "Buyers are ordering less at the show. Buying is less impulsive and more responsible. Retailers first of all want to get an idea of what there is and then buy from the showroom, except of course of big export clients like the Australians. But because of costs, they don't take part in every Pitti Bimbo anymore. They've refocused on Paris, from where it's easier to get to Northern Europe", he explained.
"Before choices were based on the product, whether they liked it or not. Now, the company's trustworthiness is the decisive factor. Buyers are more interested in companies that take things seriously and deliver on time", added Andrea Cestelli of Keyart, an Italian group which has own brands such as Muffin&Co and Illudia as well as licences for children's lines La Martina, Denny Rose and 9.2 Kids. Like the majority of the 491 exhibitors at this edition of Pitti Bimbo, Cestelli saw above all "Russian and Middle-Eastern buyers". The number of Russian buyers increased by 23% compared to last year, with 300 buyers.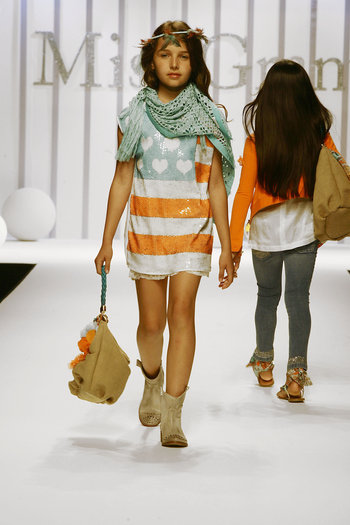 Show from Miss Grant
"Ten years ago, Pitti Bimbo attracted a lot of people. There was more of a party atmosphere. The kidswear market was too good to be true. Today, at Pitti, there are much fewer companies and almost no new brands. Coming here represents a cost. But compared to last winter, when most people looked at the stand just out of curiosity, this time we've only seen clients who are interested in buying", concluded the managing director of a kidswear label. In fact, as certain exhibitors commented, "the most fragile clients and bad debtors haven't come".
Copyright © 2023 FashionNetwork.com All rights reserved.