Perry Ellis sees growth in women's cothing
By Alexandria Sage
NEW YORK (Reuters) - Perry Ellis International Inc sees growth in its foray into women's contemporary clothing in the United States and from expansion abroad, with a deal in China or India to be announced in the near term, executives said on Monday.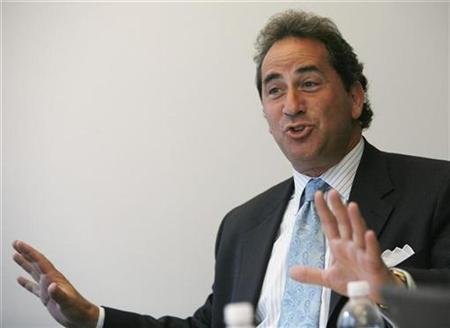 Executives at the company, which has been reducing its private-label business to focus on higher-margin niche markets, also told the Reuters Consumer and Retail Summit that the current situation with the American consumer was not as dire as some have predicted.
"There is definitely a pull back on the consumer, no question about it," said Francisco Gonzalez-Meza Hoffmann, vice president of strategic initiatives. "But it's not as bad as sometimes it seems to be when you listen to the rumors or when you see the nightly news."
The company -- known for menswear but also a maker of golfwear, swimwear, clothing for the Hispanic market and a recent buyer of two women's contemporary brands -- has already provided fiscal 2009 revenue projections that beat Wall Street estimates.
Since U.S. tax rebate checks were mailed to consumers this spring, Perry Ellis has noticed an uptick in sales at its namesake stores and from its large department store customers.
Recent acquisitions of the Laundry by Shelli Segal and C&C California brands will be a platform with which the company can jump-start its women's business, said Paul Rosengard, group president of the company's premium brands.
"I'm in love emotionally with the Laundry and C&C purchase, not just for what it can add to our company in a vacuum but if/when we're successful there, it gives us the platform from which to relaunch Perry Ellis womenswear," Rosengard said.
Perry Ellis began as a women's line of clothing.
"If you look where the great home-run potentials are for us, it's womenswear, it's international, it's potentially retail -- those are the three potentially huge growth drivers," Rosengard said.
Strength in menswear will be an asset as it tries to convince department stores like Macy's Inc to carry a new Perry Ellis women's line when it is launched, Rosengard said.
"When they (retailers) feel confident, the time will be right," he said. "We have success in men's, we have credibility."
NEW LAUNDRY HITTING RETAIL
A newly designed Laundry brand will begin making dresses retailing for $250 to $400 that will hit stores like Saks Bloomingdale's, and Neiman Marcus by this holiday season, followed by a sportswear collection in 2009.
"We want to see the brand taking the growth path that would allow it to go back to the $100 to $150 million (sales) range no less than five years ago," Gonzalez-Meza Hoffmann said.
The company bought the brand from Liz Claiborne Inc in January.
With the Perry Ellis brand, the goal is to grab a larger share of what Rosengard called "a diminishing pie" due to retail consolidation and big department stores narrowing their product selection.
The brand is launching home goods, a kids label and is reinventing Perry America from what was known as a lower-cost line to one that is more casual, younger, and denim based.
The company is also reducing its lower-margin private-label business, and hopes to make it some 10 percent of total sales in three to five years, down from 19 percent last year and a projected 15 percent this year, Gonzalez-Meza Hoffmann said.
To save costs, Perry Ellis International has shifted some of its sourcing to Vietnam and Jordan from China, which now accounts for 26 percent of sourcing versus 30 percent last year.
"I believe that over the last 10-plus years we've been able to absorb increases through what I call the sourcing curve. We're at the end of the sourcing curve," Rosengard said.
"We can't pass the costs on to the retailer because they won't accept it. They're starting from the other direction. They want higher guaranteed gross margins. So it's a battle just to maintain the profitability for them," he added. "The customer will have to accept higher prices."
Wholesale clothing prices rose this past year by mid-single digits on a percentage basis, Rosengard said, though some more fashion-forward categories managed even better rises.
As for mergers and acquisition activity, the company was still looking at companies and exploring options in China and India to be announced in the near term.
"We are looking at a lot of deals, whether they are license deals or joint ventures, opening retail stores," Rosengard said. "There aren't department stores in China, for example, they don't have the malls."
(For summit blog: summitnotebook.reuters.com/)
(Editing by Braden Reddall)
© Thomson Reuters 2023 All rights reserved.