Perry Ellis adds dress line; lowering prices
LAS VEGAS, Sept 1 (Reuters) - Perry Ellis International Inc (PERY.O) is creating a new dress line with lower prices and is selling an array of lower-priced brands in its Perry Ellis outlets to draw more value-conscious shoppers, executives said on Tuesday 1 September.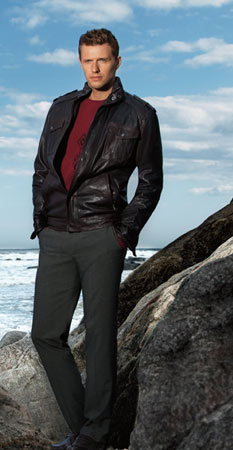 Perry Ellis Fall 2009 - Photo: www.perryellis.com
The moves are part of a broad strategy across all its brands to boost sales and profits, since lower-priced clothes should sell faster in stores, making room for new replenishment orders and lowering the chance that Perry Ellis will have to compensate retailers for unsold merchandise.
"We are right-valuing our product and price across everything. You have to be right in price, if not you will get killed," Perry Ellis President Oscar Feldenkreis told investors at the MAGIC apparel trade show in Las Vegas. Overall, the company's prices have come down 5 percent to 10 percent, said his father, Chief Executive Officer George Feldenkreis, in an interview with Reuters.
The wholesaler and retailer, which earlier this month posted a narrower-than-expected loss in its second quarter and gave an upbeat forecast for the full year, operates a host of brands including Perry Ellis, Gotcha, Cubavera and Jantzen.
Its brands are sold in department stores such as Macy's Inc (M.N) and Kohl's Corp (KSS.N). Lowering prices creates "velocity," Oscar Feldenkreis said, and helps to avoid the much-hated practice of paying back retailers who are stuck holding non-selling goods.
That practice also saps margins, so it is better business to price a garment at $29.99 and watch it fly off shelves than set a price at $50, mark it down to $36 and then end up giving a cut to the retailer if it still does not sell, he said.
"It's a better formula for success," he said.
As part of the company's new pricing strategy, a new line of dresses under the LBD label will be priced at $98 to $150, lower than those of the Laundry line by Shelli Segal, whose dresses retail for over $300.
Macy's had been asking for such a line that would address consumers' need for more value-priced goods that are still fashionable, George Feldenkreis said.
"It would widen the number of stores where we can sell," he said.
The company is also introducing lower-priced brands at its Perry Ellis outlets, such as Savane and Natural Issue.
The multibrand strategy appears to be working so far and is turning around an underperforming business in which sales at some locations were in a slump, George Feldenkreis said.
"All of a sudden stores that were always down, down, down were up, up, up," he said. "It might be something we should do in many more of our stores, that's what we're experimenting with."
"That would be a big turnaround for our retail business," he added. The $50 million unit has been a profit contributor in 2007, but a loss contributor in 2008 and this year."
In its most recent quarter, same-stores sales in that business were down 10 percent, the company said.
(Reporting by Alexandria Sage; Editing by Richard Chang)
(([email protected], +1-415-677-3923; Reuters Messaging: [email protected]))
((See blogs.reuters.com/shop-talk/ for Shop Talk -- Reuters' retail and consumer blog.)) Keywords: PERRYELLIS/
(C) Reuters 2009. All rights reserved. Republication or redistribution ofReuters content, including by caching, framing or similar means, is expresslyprohibited without the prior written consent of Reuters. Reuters and the Reuterssphere logo are registered trademarks and trademarks of the Reuters group ofcompanies around the world.nN01501876INTERVIEW/
© Thomson Reuters 2023 All rights reserved.